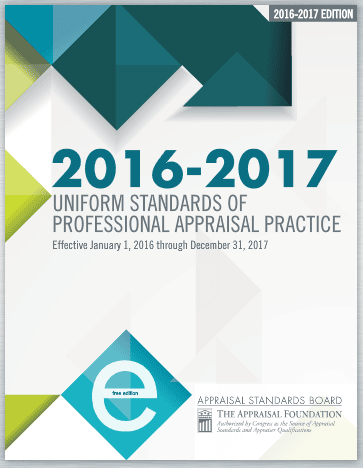 Regulation & Licensing – To date, there is no regulation on vehicle appraisers. This is both good and bad for the industry.  The good part of this lack of regulation is that it provides many different viewpoints on vehicles and formats in which the appraisals are provided. The downfall of the lack of regulation is the simple fact that not all appraisers use the same information, sources and required information in their reports.  Although Uncle Sam does not regulate and force automobile appraisers to become certified or licensed there are several institutions which provide some "suggested ground rules" or "standards".  One of the most common and most well-known organizations is The Appraisal Foundation who is responsible for the commonly followed Uniform Standards of Professional Appraisal Practice, better known as the USPAP.  Congress adopted the USPAP in 1989.  This publication contains standards for all types of appraisal services including real estate, personal property, business and mass appraisal. Compliance is required for state-licensed and state-certified appraisers involved in federally-related estate transactions.  Since 1989, The Appraisal Foundation updates the USPAP every two years so that appraisers have the information they need to deliver unbiased and thoughtful opinions of value.  ORDER ONE OF OUR APPRAISALS HERE!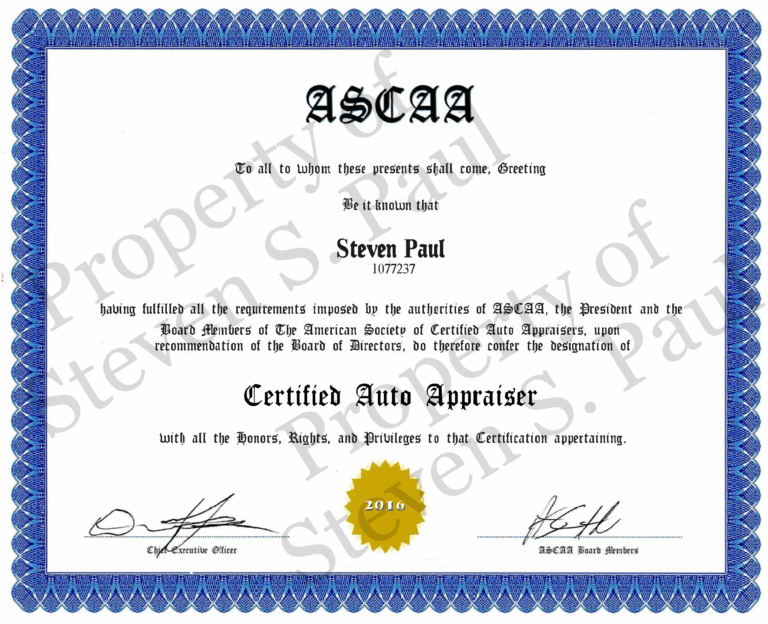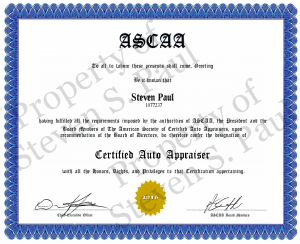 Background, Experience, and Qualification of Appraiser – Much like hiring an attorney or accountant you will want to call and speak with them. Be sure to ask questions about their experience level, what is their specialty, are they certified and by whom and what associations do they belong to.  Find out what types of vehicles they currently own or have owned in the past, do they belong to any car clubs or organizations which they regularly see and view vehicles outside of appraising vehicles. Another good way to decide on a good appraiser is if they have ever been judges of car shows or car club conferences?  Believe it or not, you do not always need or require an appraiser with 40 years of experience. Although these appraisers will likely do a very good job, get you the results you are needing, they will also likely come at a high cost.  Some younger or less experienced appraisers often have 15-20 years of experience in inspections and appraising vehicles.  They often can be less costly, provide the same results and have a bit easier or more convenient way of delivering your appraisal results.  Some more experienced or older appraisers still put all the reports, photos and video on a CD or DVD and snail mail the results to their clients, this cost additional time and money on a vehicle that you might not even want to purchase.  Lastly, when choosing a vehicle appraiser, be sure to that they will be following the USPAP and guidelines provided by The Appraisal Foundation, that way if you ever must use your appraisal for legal concerns it will hold up in court or arbitration.  ORDER ONE OF OUR APPRAISALS HERE!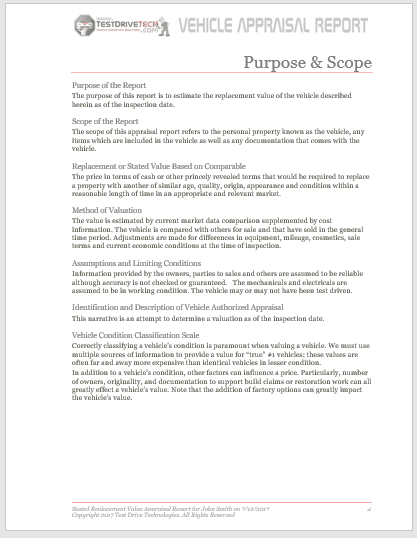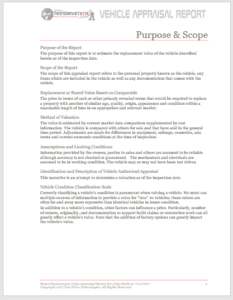 Use of Appraisal or Scope of Work – Be sure to explain to your vehicle appraiser what you will be needing to do with the appraisal report.  This will also give you the opportunity to decide if the appraiser is qualified to provide the appraisal.  Some appraisers provide certain types of appraisal services and others do not.  For instance, some appraisers will provide a total loss appraisal and fair market value appraisals but will not provide a diminished value appraisal service. Each appraiser knows their own limits and time requirements of each appraisal type.  Many appraisers only provide pre-purchase appraisals (often called fair market value appraisals) as well as stated value appraisals (often called replacement value appraisals), they often only provide these simply because they can use the same format in their reports.  Some appraisers only work on insurance claims or court expert witness appraisals because they can make more money doing it while others try and avoid them because of the time commitment involved in them.  Explaining what you need an appraisal for allows the appraiser to determine the scope of work and type of appraisal they need to write for your needs. ORDER ONE OF OUR APPRAISALS HERE!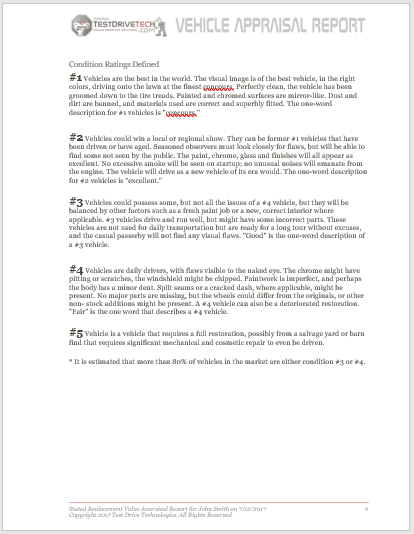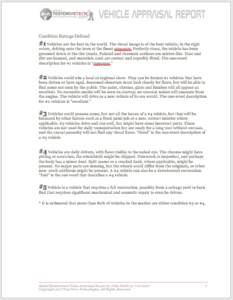 Description & Inspection of the Vehicle – Firstly, an appraisal is only as good as the inspection that was conducted of the vehicle.  There are many online companies which will provide you a valuation of a vehicle based on photos that are provided to them whether from a dealership or an induvial.  The issue with this is when an appraiser cannot see, touch, feel and operate the vehicle they are appraising they are not able to formulate a true opinion of the vehicle.  How did the vehicle run, how did the paint feel, how did the engine sound, how did the exhaust smell and how did the hood, doors, and trunk close?  These questions are used during an appraisal to judge the quality of the vehicle overall.  An appraiser is required to disclose in their report under the limitations section if a piece of property was not personally inspected.  Not physically viewing or inspecting a vehicle opens the door for mistakes and for the appraisal to be challenged later.  Each appraisal should describe the vehicle in detail including the vehicle identification number (VIN) or serial number, year, make, model, trim or series.  The description of the vehicle should also include what options the vehicle is equipped with, what engine, transmission, driveline, color codes, paint codes and what the vehicle should have been equipped with from the factory explaining what areas have been altered.  During the inspection of the vehicle, it should be gone through with a fine-toothed comb judging the vehicle as if it was at the show both cosmetically, mechanically and structurally. During the inspection of the vehicle is when photos should be taken showing the condition of the vehicle as well as the vehicle's options photo documented.  This also provides the appraiser backup for their evaluation and report. ORDER ONE OF OUR APPRAISALS HERE!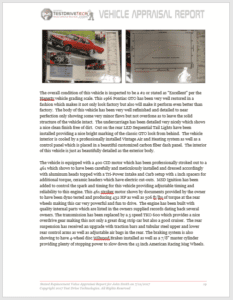 Narrative of Vehicle – The narrative of the appraised vehicle provides almost a story of the vehicle's history of its birth, restorations, repairs, sales, and purchases through documents provided by the vehicle owner.  In this narrative, you will also likely find mentions of awards, trophies, additional memorabilia that is included with the vehicle's history.  Some appraisers are better at 'telling a story" than others but all in all, you are looking for where the car came from, who has owned it, what has been done to it in the past and what is included with the car.  This narrative should be supported by photo documentation as well as a paper trail which should be included in the appraisal report. ORDER ONE OF OUR APPRAISALS HERE!
Finding Comparable Vehicles for Sale – One of the beauties of the many different appraisers out there is each can use their own style and sources of information.  Appraisals are not required to provide any specific source of information but many appraisers provide information from both market value sources and comparable sales.  For market data, many appraisers use NADA, Hagerty, Collector Car Market Review, Collector Car Price Guides as well as Kelly Blue Book, there are many other market data sources available especially with today's available websites. ORDER ONE OF OUR APPRAISALS HERE!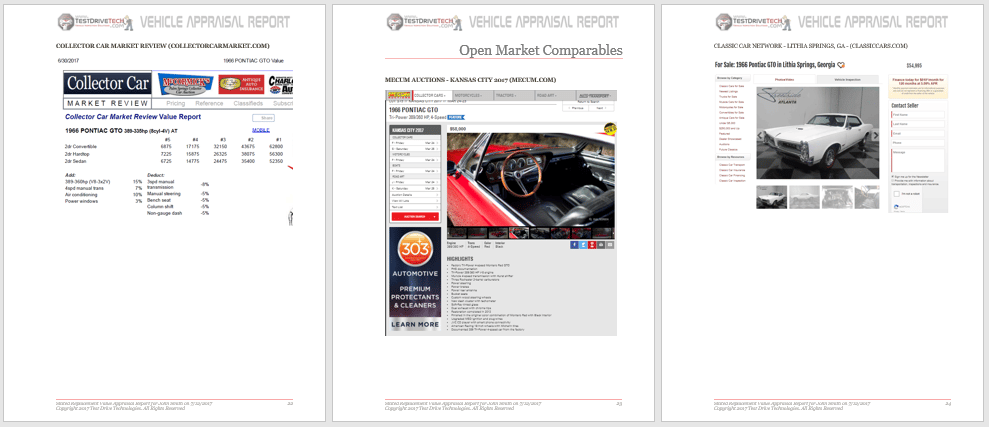 However, comparable sales listings and past sales can be tricky at times with hard to location or limited number production vehicles.  There are many available resources for comparable listings.  It is important to understand that a fair market value should include all different types of sources including listings of vehicles which have sold not just offered for sale.  Many of the sources for sold vehicles come from auctions such as Mecum and Barrett Jackson as well as eBay.  Comparable listings for vehicles offered for sale which has not sold often show a common trend in asking prices, sources for asking prices often come from AutoTrader, Hemmings, OldCarOnline and even local dealership listings.  The most important part you hope to see in an appraisal is a good variety of sources of information showing vehicles of the closest match in age, model, optional packages, and condition. ORDER ONE OF OUR APPRAISALS HERE!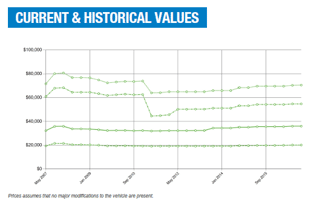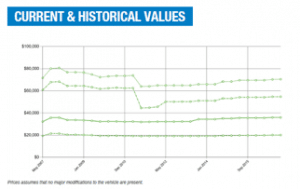 Analyzing Market Trends – Although not a requirement of the USPAP, it is a great option to also have a graph or some information providing what the current trend of sales and value is for your vehicle.  Although vehicle values often fluctuate with the strength of the economy, there are some vehicles which plateau regardless of the economy which is often looked at as a more sound investment.  It is, however, important to remember that even the best market trend data cannot provide you with what the market will allow for and something is only worth what someone is willing to pay for it at that given time. ORDER ONE OF OUR APPRAISALS HERE!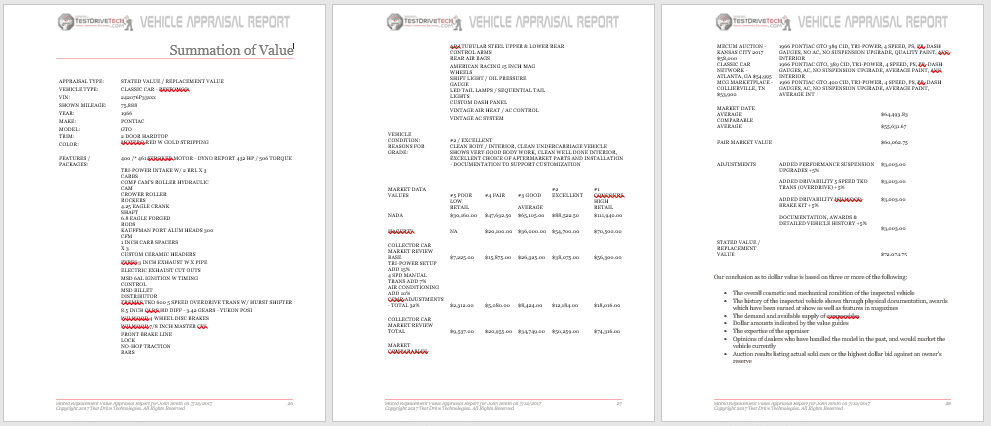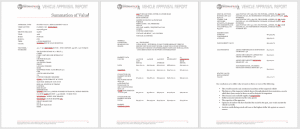 Calculating Adjustments of Value – It is extremely uncommon when searching for comparables to find a vehicle exactly in the same condition, mileage, age and with the same option package.  With this being the case, adjustments are often used in an appraisal.  Adjustments are used for mileage, condition, option packages, trim, awards, and documentation.  There are several "tools" used to assess adjustments. Some appraisers rely on their experience and what they have "seen" in the marketplace and others use more substantial data such as Collector Car Market and Hagerty's Valuation Tool.  What is important here is the explanation and narrative of what, how and why the adjustment is used as well as what percentage the adjustment is found at. ORDER ONE OF OUR APPRAISALS HERE!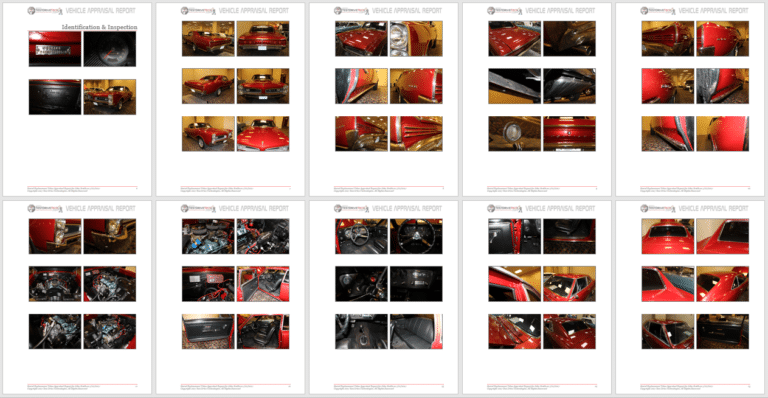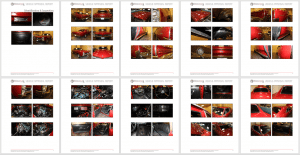 Writing of Report – A the beginning of this article I mentioned that no two appraisers are alike and that there is no real government oversight or regulation on automobile appraisers.  Because of this, no two appraisals will ever be the same. All appraisers create and write their own appraisal reports.  Some follow the strict guidelines of the USPAP developed and written by The Appraisal Foundation and adopted by the U. S. Congress.  Some appraisers write their reports using a template design which has sections and breakdowns which are easy to follow however others use a long narrative telling a long story of the vehicle and how the value was established.  There is no right or wrong way to write an appraisal report just so it contains all the required USPAP sections, explanations, and disclosures.  Some appraisers include photos inside their report with captions others provide them separately on disc or other electronic means.  There are even some appraisers which still print photos and snail mail them to their clients. ORDER ONE OF OUR APPRAISALS HERE!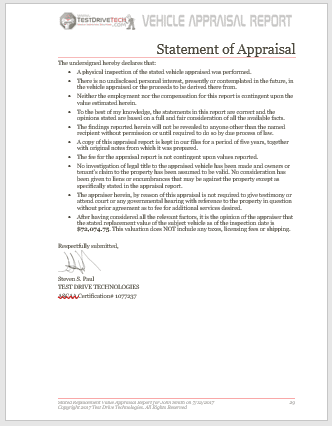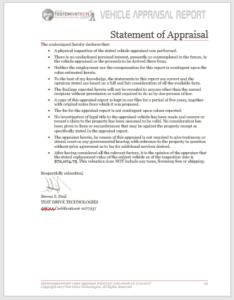 Assumptions & Disclosures – An appraisal report following the standards accepted by the U. S. Congress and formed by The Appraisal Foundation in the USPAP requirements will have several sections which explain what, how and why the valuation was formed for the vehicle.   The USPAP required sections are the Appraisal Letter to Client, Purpose of the Report, the Scope of the Report, Method of Valuation, Assumptions and Limiting Conditions, Identification and Description of Vehicle, Vehicle Inspection, Definition of Condition (if using a grading or judging scale), Summation of Value (this is how the appraisal value was calculated), and lastly the Statement of Appraisal. The last lines of a quality appraisal will be signed by the appraiser, listing their company name and certification information. ORDER ONE OF OUR APPRAISALS HERE!