Making sure your vehicle appraiser knows your vehicle type, is certified under USPAP standards and can provide the correct type of vehicle appraisal you need is key to getting what you need. Here are some questions to ask before hiring a vehicle appraisal to make sure you choose the right one.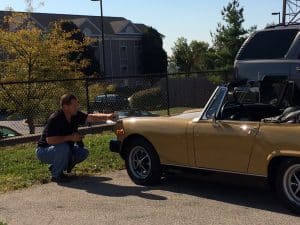 So you have found that vehicle that you have been hunting for, it fits your budget, it looks like a solid vehicle right?  Great!  Now the real question is… How much is it really worth. If you are financing a classic car or antique vehicle or even a motorhome or RV your credit union or finance company may require a certified declared value appraisal.  If that is the case, the bank will likely have you choose the vehicle appraiser and furnish them with the vehicle appraisal documentation. 
Here is short list of major things to ask a vehicle appraiser before you hire them.
Your first concern should be whether or not the appraiser will be doing a thorough inspection of the vehicle prior to determining a value.  Some vehicle appraisers only do a brief inspection of the vehicle, take a few photographs and then right an appraisal based on the quick look of the vehicle.  Your vehicle appraiser should be performing a full pre-purchase inspection of the vehicle as well as taking many photos to document the condition of the vehicle.  Some vehicle appraisers even take video of the vehicle during the pre-purchase inspection so you have documented proof of the vehicle's condition matching the stated value.  Never go with an appraiser that does not perform a full inspection or does not provide a bunch of photos of the vehicle.
There are several types of vehicle appraisers in the marketplace.   Some specialize in damage appraisals which is not want you want if you are looking for a current market value of a car you are about to purchase.   When searching for a vehicle appraiser look for phrases such as "certified appraisal" and "declared value appraisal".  These are the types of vehicle appraisals your bank will be wanting you to have done before approving your loan and some insurance companies also require these types of appraisals so they know how much the insure the vehicle for in your policy. So be sure to ask or know that the vehicle appraiser knows what appraisal you need before you secure their services.
Not every vehicle appraiser out there is actually certified.  Even worse, there is no laws saying that a vehicle appraiser must be certified or licensed. An appraiser license is only required if the appraiser works for an insurance company.  They are then required to have an appraiser's license as well as a property / casualty insurance producer licenses.  Look for a vehicle appraiser that is certified by companies like the ASCCA, BOCCA, IAAA and ISA. All of these companies test and certify based on USPAP standards which are standards set forth for all appraisal types including real estate and personal property.

The last thing I will leave you with is to make sure that you choose a vehicle appraiser that knows the type of vehicle you are needing appraised.

  What you do not want is a classic car appraiser providing a motorhome appraisal.  Even though all vehicle appraisers should follow the standards set forth by the USPAP, your vehicle appraiser needs to know the market they are appraising for very well so they know how to locate values for other vehicles of the same type accurately.