I recently had the opportunity to inspect a 1967 Pontiac LeMans Sport Coupe in St Charles, Missouri. It is not very often you find an all original body and paint LeMans but this one was the real deal.
The Pontiac LeMans was a model name that was applied to subcompact- and intermediate-sized automobiles marketed by Pontiac from 1962 to 1981 (1983 in Canada). Originally a trim upgrade based on the Tempest, it spawned the industry changing signature muscle car, the GTO, in 1964. Manufactured in five generations in the 1960s and '70s, it was replaced by the downsized Pontiac Bonneville for the 1982 model year.
The body was certainly showing its age with heavy fading, dents and scratches as you would expect and the lower rear quarter panels were rusting through. The frame was solid from front to rear though and the floor pans and trunk pan looked really good for an all original car that was unmolested.
This 1967 LeMans was no survivor car as it had several upgrades. She had a 4 wheel disc brake upgrade, new master cylinder and booster, 5-speed Manual Transmission, new clutch and powered by a fresh build 400 Pontiac Tri-Power and cooled with a 4 core radiator and electric fan. After I got the engine started (20 minutes of troubleshooting and playing with the ignition switch) the engine ran smooth until it started to get too hot. The clutch was strong, brakes firm and steering smooth. Like a dummy I shut it down because it was running hot and then couldn't get it started back up so the video doesn't have the engine running.
Unfortunately she still needs someone with good mechanical knowledge to go through this build and make sure it is road ready. I found a lot of electrical issues starting with the starter. The starter is drawing a lot of amps during cranking which I found to be related to the wiring system. Much of the overall wiring has splices here and there and lots of repair sections. It is certainly in need of a full replacement Painless Wiring Harness such as this one on Amazon.
Being an all factory original body, interior and suspension, much of anything that was made from rubber was dried up and cracked from front to tail. This was not a surprise and pretty much a blessing for the next guy to know that the car has not been overly glued on and messed with much. It will need body mount bushings, suspension bushings, door seals, window gaskets, runner seals and firewall grommets throughout. The typical dash cracks and steering wheel cracks are present, factory AM radio with a broken antenna but the radio did power on!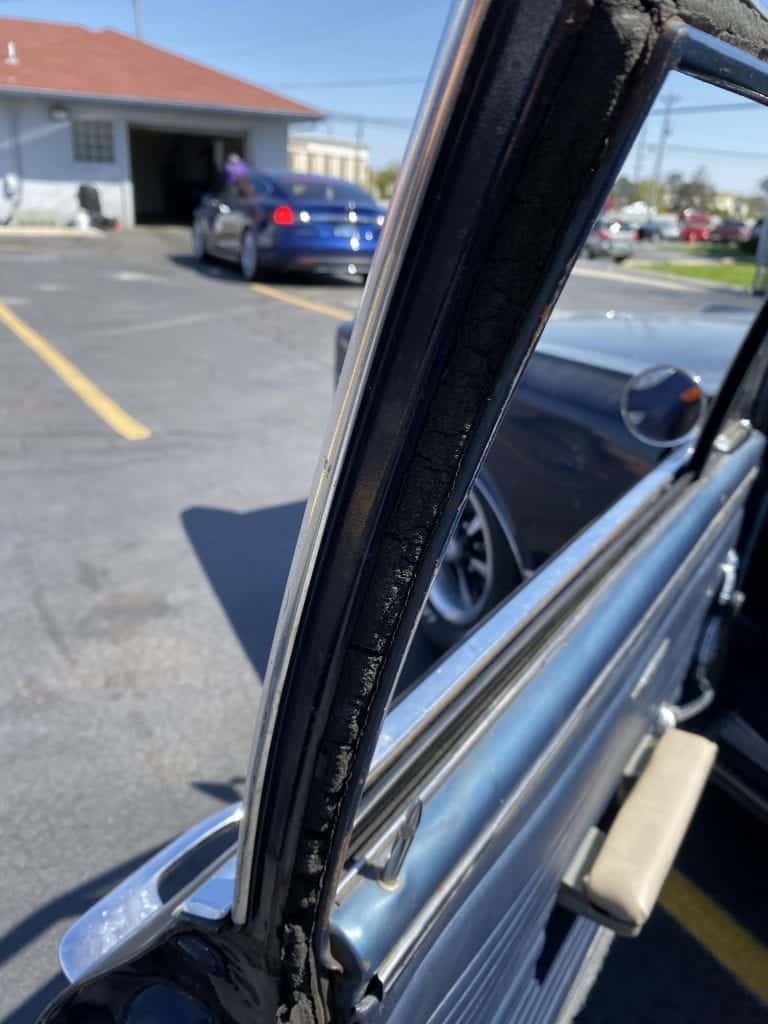 Remember I mentioned the car needed the lower quarters cut out and welded in because they were rusted out? The previous owner had great plans for this car I guess. I found two NOS stock lower quarter replacement panels in the trunk and a lot of old parts. This car is well on its way to a new life I guess. From what I'm told the buyer will likely toss on a GTO hood and rear panel and have the work done it needs and enjoy it for its next life on the road.
[envira-gallery id="35115″]