I know the world economy has slowed and taken a large hit. Consumers around the globe have locked down their bank accounts and are spending the bare minimum. I know things happen and you may or may not need to purchase a used car. I am still here to HELP with a pre-purchase inspection any way I can! The Governor of Illinois has authorized auto related services and appraisal services as essential businesses. This means we are remaining open to help those who may be considering a purchase of a used car, classic car, collector car, motorhome, RV or even a commercial truck.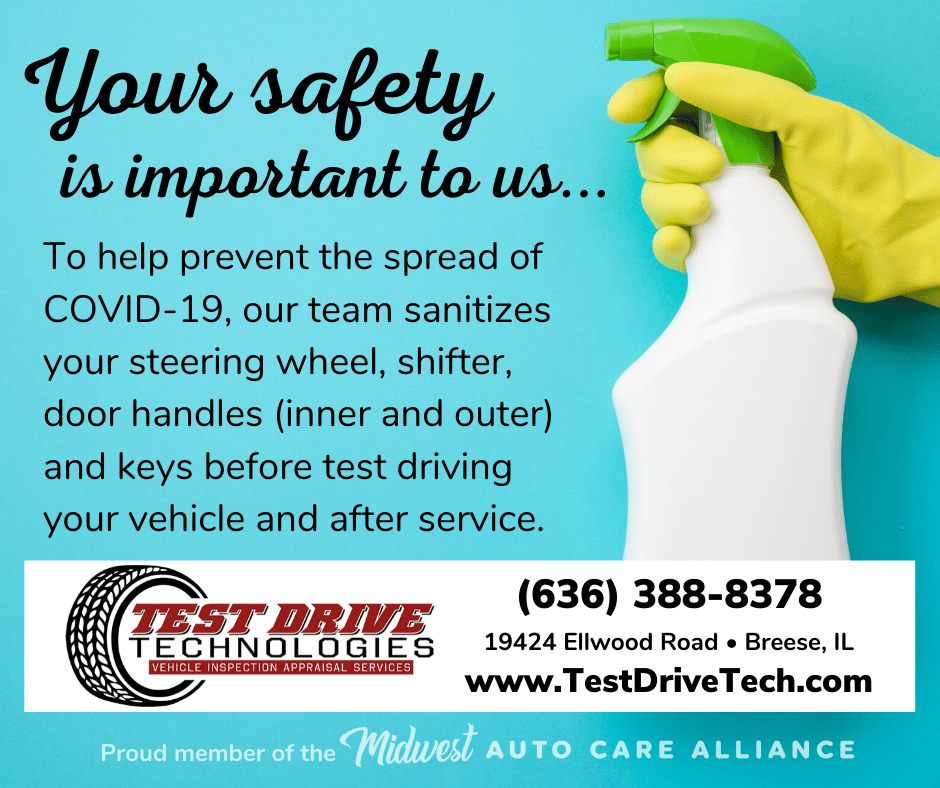 In an effort to protect myself and others, I am carrying disinfectant wipes, wearing a mask and wearing gloves during the inspection process. I will be wiping down all touched interior surfaces. This means I will be wiping down the keys, seats, steering wheel, shifter, stereo, navigation, window switches and door locks…. The list goes on and on.
As always I will be wearing my Test Drive Technologies Vehicle Inspection Appraisal Services branded polo shirt. I do ask that any buyer or seller keeps a safe distance. I will introduce myself, ask that you place the keys in the vehicle and stay back at least 20 feet during the inspection. Feel free to read my bio, do research on me online, find me on Facebook and watch my YouTube videos to see who I am.
I normally encourage a buyer or seller to join me for the test drive portion of the inspection, this is non-negotiable for the safety of both parties. If the seller or buyer refuses to allow the vehicle to leave without them riding along, the test drive will not take place.
I continue to pray for all of those affected and infected by this devastating situation. Our small business is prepared to weather these tough times and will be here when you need us. For more information on how we will help protect our customers and sellers please feel to reach out to me personally at 636-388-8378 or by emailing me directly at steve@testdrivetech.com