I had a great time performing this classic car inspection on this 1970 Ford Bronco at Fast Lane Classic Cars in O'Fallon, Missouri last week. WOW what a nice restoration. This truck showed a nice nut and bolt restoration and was brought back almost to 100% factory with the exception of a few areas that were done with class.
The Ford Bronco is a model line of SUVs that were manufactured and marketed by Ford from 1965 to 1996. After the first generation of the Bronco was introduced as a competitor to compact SUVs (including the Jeep CJ-5 and International Harvester Scout), the succeeding four generations of the Bronco were full-sized SUVs, competing against the Chevrolet K5 Blazer and Dodge Ramcharger. The first Bronco was assembled using its own chassis, while the full-sized Bronco was derived from the Ford F-Series (F-100, later F-150) pickup truck; all Broncos were produced with four-wheel drive powertrains.
The Ford Bronco was withdrawn from the Ford light-truck model line following declining demand for two-door SUVs. For the 1997 model year, Ford replaced the Bronco with the Ford Expedition, a four-door SUV based on the F-150 (the later Ford Excursion was based on the Ford F-250 Super Duty).
From 1965 to 1996, Broncos were produced at Ford's Michigan Truck Plant in Wayne, Michigan. In 2017, Ford announced the reintroduction of the Ford Bronco as a mid-sized SUV (derived from the Ford Ranger) as a 2021 model; manufacturing is to return to Michigan Assembly.
[envira-gallery id='36899′]
As you can see in the photos above from my classic car inspection, this restoration build was done with great care and attention to detail as you would want it to be. Some great options having been added to this rig are power steering, vintage air conditioning, TBP brakes and some nice big fat BFG tires on some nice 15″ wheels. The interior has remained pretty rustic and rugged with only the bare essentials provided as they were from the factory. The floors have been sprayed and sealed with bed liner.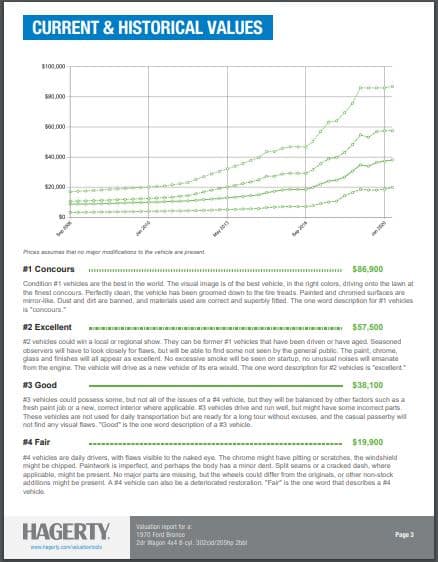 Classic and even some of the early 80's Broncos are seeing strong values at auction and in resale. Giving a strong reason to ensure you get a classic car inspection and ensure the Bronco you are considering is up to par. This truck would easily bring close to $80,000 if not more depending on the timing and bidding. Since 2010, 1970 Ford Broncos have seen a increase in value of 800%, climbing from $20,000 to over $80,000. Much of this hype is from the release from Ford Motor Company about the new age Bronco coming to market.
If I can assist you with a classic car inspection similar to what you have seen above please feel free to send me a message or give me a call or even send a text to 636-388-8378. I would be honored to be your eyes and ears if you are not able to see the vehicle in person.