Buying cars has changed since COVID 19 has closed many showroom across the nation. This article will cover what you need to know about buying, inspecting and returning a car from CARVANA
CARVANA has made the online buying experience very easy and simple as well as financing. You simply go to the CARVANA website and search for a vehicle the same as you do any other classified website. You can find vehicles in all shapes and sizes, mileages and ages. You then select the vehicle, you can choose from your local market or nationwide.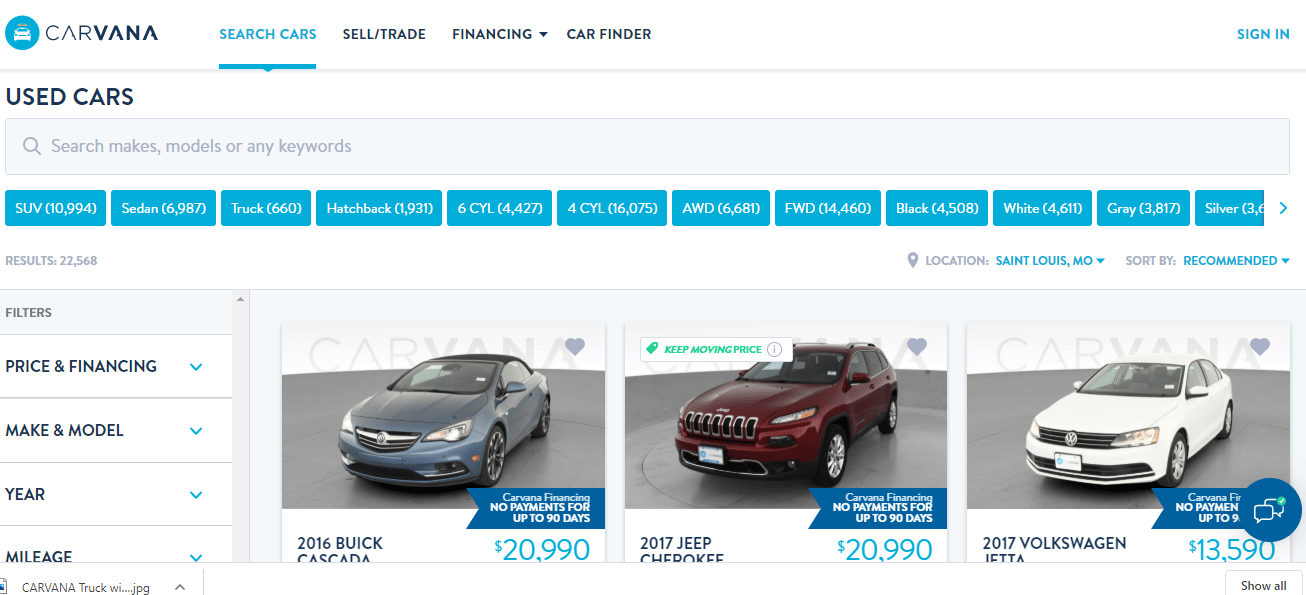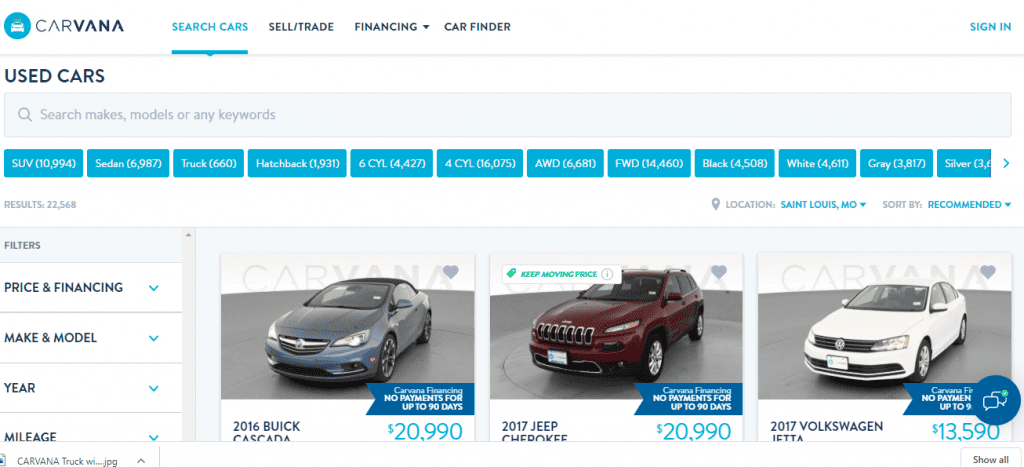 CARVANA also has several custom finance options for buyers for you to choose from based on each vehicle and of course warranties, GAP and other addons for you. The coolest part is they will deliver the vehicle to your door step via a truck. Each purchase comes with their unconditional 7 day return policy.
The CARVANA 7 day return policy is a bit tricky though. They state Day 1 of your 7 Day Money Back Guarantee begins when you accept the vehicle, regardless of time of day. So for instance if your vehicle arrives at 4:45 PM on the 1st of July then that first day counts as day 1. This has confused several people in the past and left them hanging with a vehicle they didn't want. Another issue many people seem to run into is if they use outside financing (such as your own bank) the vehicle is not returnable because CARVANA will only accept a return if there is either no lien on the vehicle or if it is financed through CARVANA's financing. So pay special attention to this part for sure!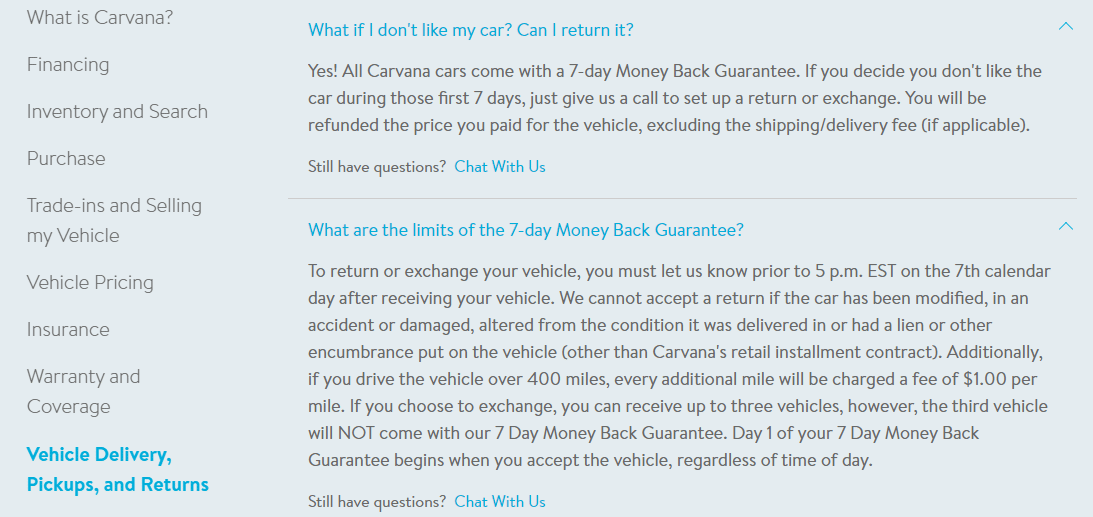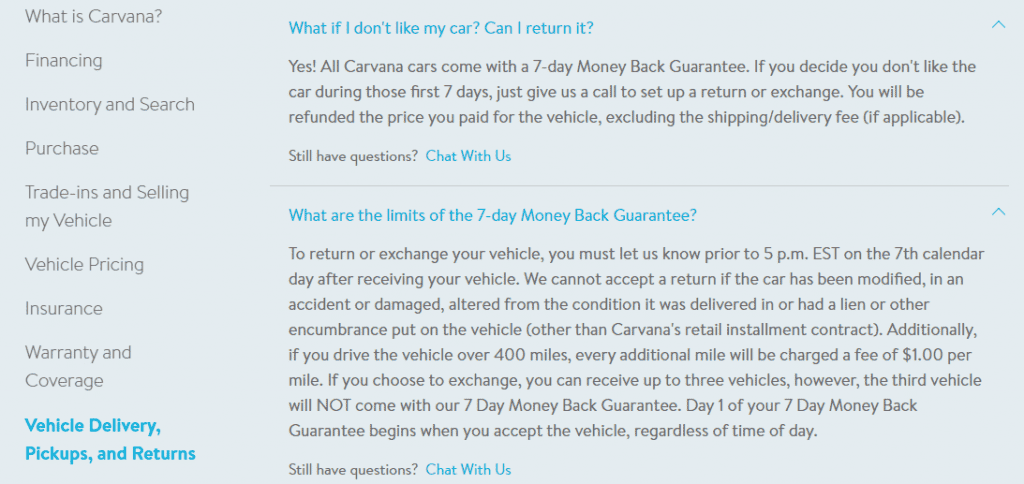 It does look like CARVANA is pretty good about letting you know when your vehicle will arrive if you have it shipped or when you can pick it up at a vending machine in your local market. Here is what I suggest to help protect your investment and purchase
As soon as you know of the actual day of delivery or pick up contact me and schedule a used car inspection. It is best to schedule the inspection the day after your vehicle is delivered.
The day of inspection, I will come to your location of choice whether that be your home, place of business or a Walmart parking lot whichever you feel safest. I carry the proper tools, ramps etc to inspect your vehicle.
I will perform a thorough top to bottom and front to back inspection of your vehicle including all features, options and a full test drive to ensure everything is working as it is designed for you.
I prepare a full checklist inspection and take photos as documented evidence of the issues found. There are numbers of reports of CARVANA vehicles showing up without the proper keys and scratches throughout the vehicle.
You can make an informed decision on my findings and your feelings of the vehicle. Whether or not you want to send the vehicle back to CARVANA based on their 7 day return guarantee is of course up to you but at least now you have some insight on the vehicle's actual condition.
How much does a Post Sale Inspection for a CARVANA vehicle purchase cost at TDT? It is just $200! That may seem like a lot but if you think about what $200 might save you in the long run if something like frame damage or a leak is found that might cost $1000's to repair, it is just a drop in the bucket.
I do hope that this article about Buying, Inspecting and Returning a vehicle purchased through CARVANA has helped you. If you would like to learn more about my Post Sale CARVANA inspection please feel free to contact me anytime.