Lemon Law vary state by state and have been signed into law to help protect consumers. Lemon Law applies to many types of vehicles from automobiles, cars, trucks, boats, motorcycles and even commercial vehicles in some states.
What is the "Lemon Law" Anyhow?
Lemon laws are American state laws that provide a remedy for purchasers of cars and other consumer goods in order to compensate for products that repeatedly fail to meet standards of quality and performance. Although there may be defective products of all sorts ranging from small electrical appliances to huge pieces of machinery, the term "lemon" is most often used to describe defective motor vehicles such as automobiles, trucks, SUVs, and motorcycles. Source: Wikipedia
You know that phrase "When life gives you lemons make lemonade"? That is all great when it isn't the car you rely on everyday to get back and forth to work and transport your family!
When Do You Know You Have a "Lemon"?
In order to qualify for the majority of Lemon Law in different states the vehicle must have had an "unreasonable number of repair attempts" OR an "unreasonable amount of out of time of service". While each case is different, most cases require a minimum of three repair attempts. Your car may also be covered under the lemon law if it was in the shop for a long period of time for a repair attempt. This does not have to be consecutive and can be multiple repair attempts added together. I'll give you an example.
John purchased a new car. He is the first owner of this car, it is covered under factory warranty. John starts to feel a vibration in his steering wheel around 5,000 miles or so. The mileage is not really that important as long as it is still under factory warranty. John takes his car in for repair to the manufacture dealership where he purchased it due to this vibration. The dealership repair center brings the car in and does a tire balance, covers it under factory warranty and returns the car to John and says it is fixed. The car was only in for repair for one day. This is repair attempt 1 and 1 day out of service.
John drives his car back home and parks it until tomorrow morning when he leaves for work. Once he gets on the highway he feels the same exactly same vibration he described to the service department. He calls the dealer repair center and explains he is still feeling the issue occur and makes an appointment to drop the car off again. That afternoon he drops the car off and request that the technician goes for a ride with him so he can show him the vibration. The technician verifies the vibration and tells the service writer they need to bring it in for further diagnostics. This time the car gets checked out further and all the suspension, brakes, steering and driveline components are inspected, everything checks out fine. During the repair visit however, the technician makes a note saying that they checked all fasteners in the suspension and steering system and all were at proper torque specifications. This is repair attempt 2 and now 2 days out of service.
John again drives a short way home after a long day from work after picking up his car. The next morning he drives to work again, the same route as always, half highway and half city speeds. He notices the vibration is still present. Once he gets to work he sends an email to the service manager at the dealership about the issues he is having with his car vibrating at highway speeds, he is sure to mention that the car has been in there twice before and this is now the third time he has had to bring the car back for the same concern. The service manager replies back and tells him to bring the car back and that he will personally ride along with him and verify the issue and oversee the repair process. John takes the car back in, gets checked in and drops the car off and picks up his loaner.
A few days go by and John has not heard anything back yet so he gives the dealership service center a call. He was told that the manufacture service representative is coming out to inspect the car for the vibration and he will be contacted back as soon as the car is done. Several more days go by, a week and then two weeks. Finally he gets a call from the service writer and is told his car is ready and to come pick it up. When he arrives he is welcomed by the service manager and informed that the car has been repaired and ready for him. This is the third repair attempt and now 16 days out of service.
John decides the take the long way home this time and goes straight for the highway. Guess what?… The vibration is still there. John heads home in disgust and starts looking over his repair orders. He notices that there was not any actual repairs done only checks of this and that but nothing ever replaced. Even worse, no note that a technician ever road tested the car to make sure the vibration was gone before it was released back to John. John starts doing some research and learns about his states Lemon Law and contacts and attorney.
What Can I Do To Help Make My "Lemon Law" Case Stronger?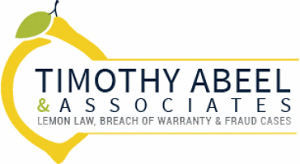 As an expert witness vehicle inspector I have worked with a lot of attorneys over the past 10 years. There is one attorney has always stood out as an excellent guy and has a firm that specializes in Lemon Law, Fraud and Misrepresentation Claims for automobiles. Timothy Abeel, one of the nations top Lemon Law Attorneys, Tim Abeel provides some pointers for you about Lemon Law Claims and how to make your case stronger and easier to represent. This is what Tim tells his clients about Lemon Law cases. "Documentation is crucial.  Videos, Pictures,  Repair orders and a journal. When repair orders don't clearly state the issues that you are experiencing or dealerships may not give a repair order, keep a handwritten journal / timeline.   The more details with the journal / timeline the better.   Take down events as they occur.  Make clear in your journal how the problems are a safety issue with examples of events, how the problems affect in a negative manner your use/life due to the failure to repair."
What Documentation Do I Need for a Lemon Law Case?
Proof of Purchase
Bill of Sale, Finance Agreement, Purchase Contract, Warranty documents. Without proper purchase documentation your claim cannot be submitted nor can the expert witness verify your ownership of the vehicle. I've reviewed some AMAZING cases that have strong repair attempts and time out of service which would have WON, but I was not able to verify the purchase date, ownership and if the vehicle was purchased new or used.
Timeline of Issues and Repairs
A timeline of when and how the issues of your car happen. Be sure to keep record of the repair attempts and any communication with the dealer or manufacture!
Repair Documents
Your repair orders, receipts and invoices are CRUCIAL to your case. Your repair documents are the key evidence that the manufacture has had ample opportunity and time to make repair attempts to your vehicle.
Photos and Videos of the Issue(s)
I have seen cases one solely off of photos and videos from clients but it is not the end all be all. Photos and videos help the expert understand the issue and back up the experts opinion. One thing to keep in mind when shooting a video is keep your language rated G. It is completely understood how scary, aggravating and upset the issues can make you feel but foul language and drama only makes you sound desperate. Keep to the facts, date, time, speed, what is happening and how it happens. Try and remain professional.
Emails, Communication, Letters with Dealership and Manufacture
Sometimes a simple email is a nail in the coffin in a case. Be sure your attorney gets all communication between yourself, dealership and manufacture. Voicemails are often helpful as well.
As an expert witness inspector I inspect a lot of vehicles for lemon law cases. One thing that I look at right off is the number of times a vehicle has been taken in for repair and the number of days out of service. Tim also says, "Obtain several repair orders to demonstrate that you gave the manufacturer a reasonable amount of attempts to repair under the warranty"
Depending on your documents and case, your vehicle may or may not have to be inspected. If it does need inspected, it will be inspected by a "Lemon Law Expert Vehicle Inspector". Many attorneys rely on experts for a few reasons. Firstly, the attorney may want or need to verify that there is a truly a case to move forward with. Secondly, the expert will also rely on their inspection in part of their expert witness report for your case. Third, the expert sometimes finds other issues with the vehicle that were not discovered or uncovers the actual cause of the problem and will use that in their report.
Do You Have a Lemon Law Case?
You might! If your car or truck has been in the shop multiple times or for an unreasonable amount of time for the same or similar problems! Lemon law protection arises under state law, with every U.S. state, plus: the District of Columbia having its own lemon law. Although the exact criteria vary by state, new vehicle lemon laws require that an auto manufacturer repurchase a vehicle that has a significant defect that the manufacturer is unable to repair within a reasonable amount of time. Lemon laws consider the nature of the problem with the vehicle, the number of days that the vehicle is unavailable to the consumer for service of the same mechanical issue, and the number of repair attempts made. If repairs cannot be completed within the total number of days described in the state statute, the manufacturer becomes obligated to buy back the defective vehicle.
If you feel that your car is a lemon and possibly qualifies for Lemon Law please feel free to contact me using my contact form and I will do my best to connect you with an attorney in your area.
Disclaimer: I am not an attorney. I do not pretend to be an attorney. I work with many attorneys for Lemon Law, Fraud and Misrepresentation cases. I am happy to provide you a reference to one in Missouri, Illinois, Pennsylvania, New Jersey, Louisiana, and Mississippi. Any advice provided in this article is for reference and advertising purposes only. Always seek advice from a licensed and qualified attorney.