Here are some things to considered when buying a RV, camper or motorhome. Many families are realizing that going to big fancy theme parks and resorts that have 1000's of people is dangerous and often expensive. For nearly the same amount of money it takes to fly, rent a car, drive, pay for hotels and theme park tickets for a small family these days you could easily buy an RV, Motorhome or Camper. A lot of families are taking the plunge and buying new or used RVs, Motorhomes or Campers that will bring them years worth of memories and sights of national landmarks and places they could never get to without long distance traveling.
Since so many families are changing up their plans so have I with my advice! That is why my wife and I have put together this Ultimate List of Things You Might Not Have Considered About Buying a New or Used RV, Motorhome or Camper. Now there is no right or wrong answers or choices, these are just some of the things we wanted to share with you about buying a new or used RV, Motorhome or Camper. I hope this guide gives you some ideas of what to think about. There is no right or wrong reasons but just some ideas. If we can help you with a Pre-purchase RV, Motorhome or Camper Inspection please feel free to reach out to us anytime.
We Are Just Here to Help Our Fellow Campers
Where do we come from and why do we know what to consider when buying a New or Used RV, Motorhome or Camper?  Between my wife and I we have over 50 years of camping experience.  My wife has been camping since she was just a month old and I have been camping since I was ten.  Together we have tent camped, owned two popup tent trailer campers, and we are now on our second bumper pull travel trailer camper.  We have camped everywhere from Walmart parking lots, back roads, race tracks, rest stops, hill side cliffs, and next to rivers.  We have over 30,000 miles of traveling with our camper, two dogs and three kids.  We have learned a lot along the way, seen a lot of different types of campers and features through inspections and even today still wish we had maybe bought something a little different in a camper.  
Number of Doors, Location and Layout
Our first full size self contained camper was a 2001 Fleetwood Prowler. It did us well for a few years until a few spots got too soft for us to use but we did run into the family who bought it and they are using it still today! Anyhow, what we loved about our Prowler was the front main door that opened into the kitchen and the rear door that went directly into the master bedroom. I urge everyone to check out the RV shows and walk through units and put yourself through some scenarios as it made a huge difference with kids and our dogs.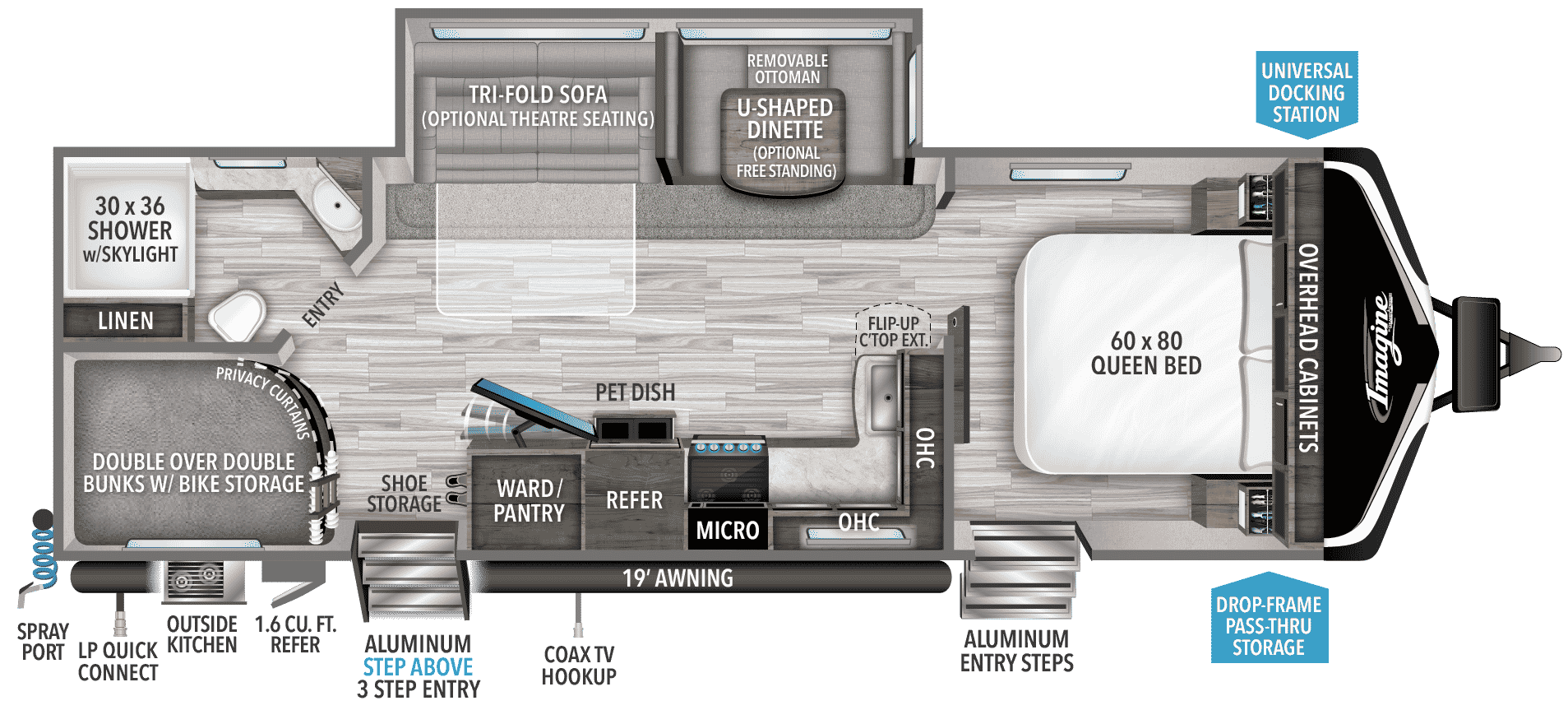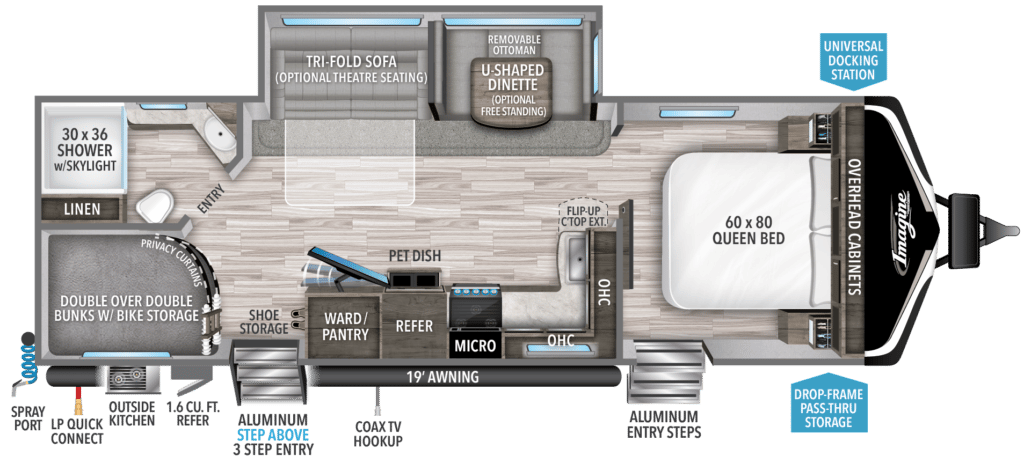 Number, Type and Location of Beds
One thing we have learned about buying a RV, Motorhome or Camper is that it needs to fit your family now and later. When we first got started we knew we loved camping but didn't know if it was going to work for our family but it has and we are grateful for that. We started off with an old 1977 Skamper Popup with two twin beds in it and a bench and a fold down table. Believe it or not it slept all 6 of us at once. While it fit all of us, it was obviously cramped, you couldn't move around or use the table when it was a bed.
Our advice to you is to choose a RV, Motorhome or Camper that will have a bed for every person in your family, even if they need to share isn't too bad for the little ones. Pull out couches work pretty well but make sure they don't interfere with walking space or block doors when pulled out. I urge you to NOT count the table as a bed and only use it when absolutely necessary.
What we learned over time is that the kids having their own space helps keep the clutter down, you don't have to continue to move stuff around like bedding and pillows and it also seems to let the kids enjoy camping a bit more. Our eight year old even likes to go out to the camper now and then and hang out in her bunk even when we are home.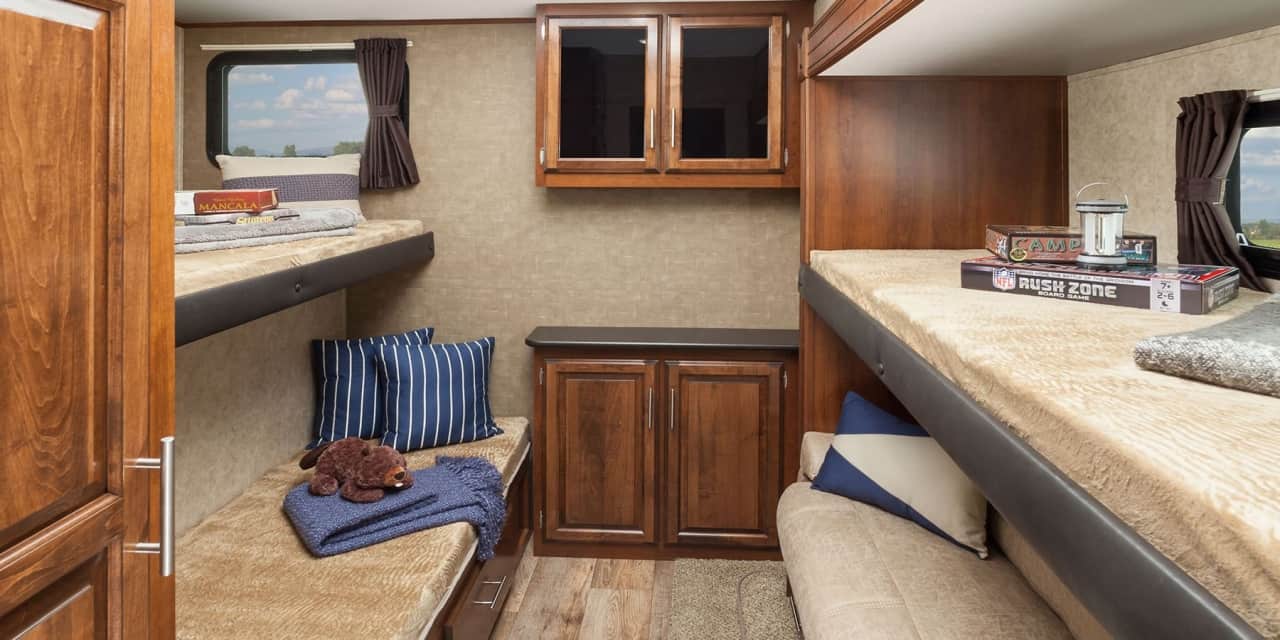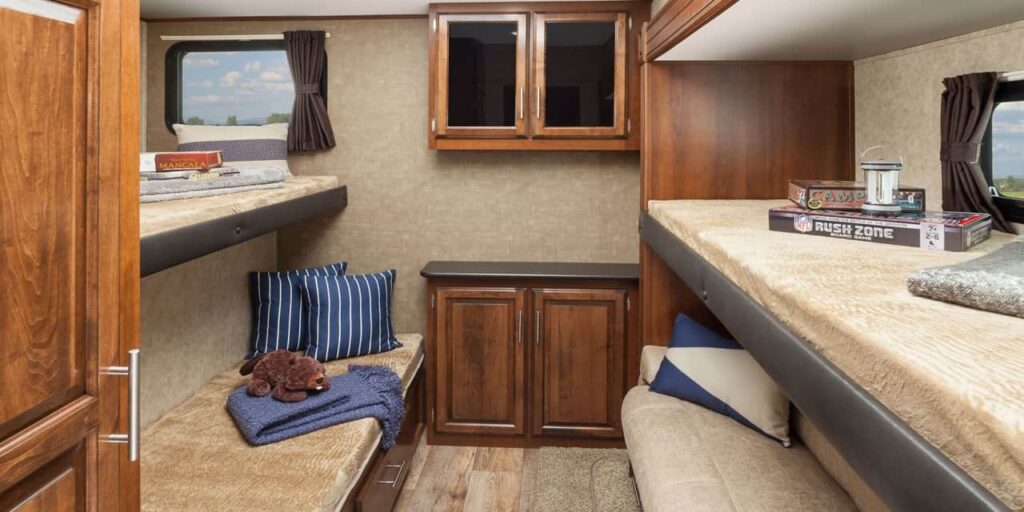 When it comes to choosing the number of beds and type of beds you have a lot of choices and layouts to choose from. We didn't think our kids would like the bunkhouse since they are eight, twelve and sixteen but believe it or not it has been working great for us so far! They are able to close their door, make it dark and it also gives us some non-parenting time in the living area for a bit after they go to bed.
Dining & Living Seating
Popup campers you are almost guaranteed to end up using a table or bench as a bed somehow. I have even seen some that convert the sink counter into a bed. Popup campers are great if you have a little one or two but if they can't share the other popout bed popup camping life becomes miserable as soon as they get a little older of if you have to constantly change a table into a bed and back. Things get easier when you get a full size self contained camper but we still had sleeping arrangement concerns with our first full size bumper pull. Even to the point where our oldest would pitch a tent outside so he didn't have to share with either of the two girls.
Give the Kids Their Space Too
Our newest bumper pull has a bunkhouse and it works great since our older one is now out on his own so we have just the three. Each kid now has their owned defined area, no more complaints about sharing covers or stealing pillows or who slept next to the wall last night. My favorite is that bedtime equals quiet time for us and they actually enjoy their door being closed to make it dark and cooler. It gives us parents time to sit and chill in the living room, come in and go outside without having to disturb them. We were on the fence about them liking it or not but it has turned out to work very well.
We HIGHLY recommend going to your local RV show when it comes into town. Let the kids try out the spaces while you look at the rest of the camper. We also brought our dog to make sure she fits. You will notice it almost immediately. Now if you don't have kids or need those beds, don't sacrifice the living space or storage!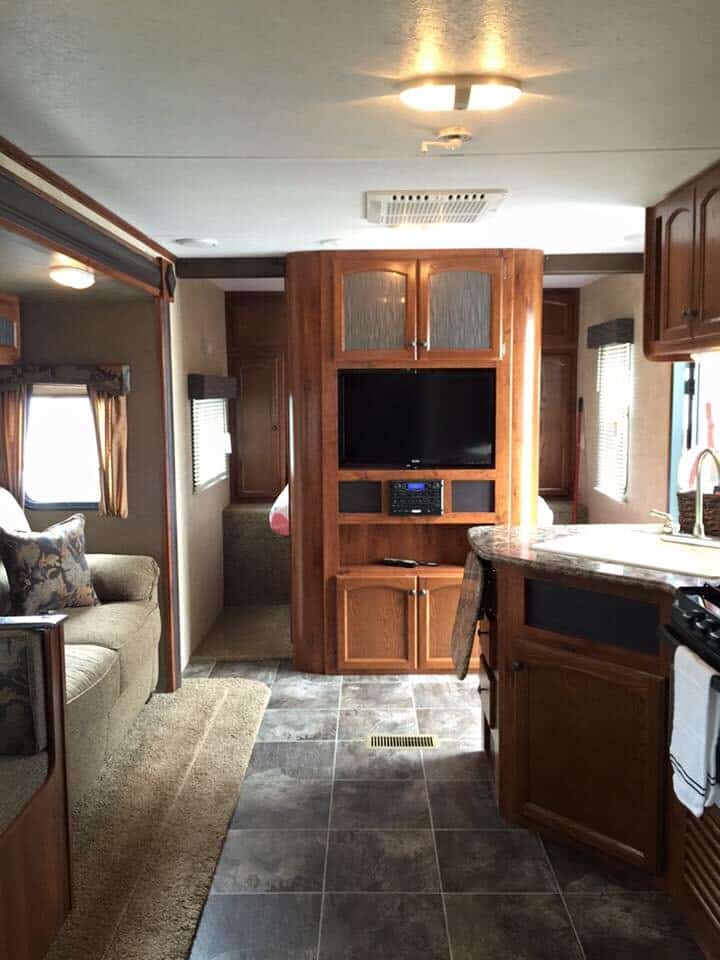 Flooring Choices
Floors with kids and dogs are always a wreck. We wish we would have went without carpet when buying a RV, camper or motorhome. However, I still like to take my shoes off and feel a soft floor. Floor choices really come down to what you are going to be using your camper or motorhome for the most. We are those kind of people who are usually off the beaten path a little.
We go racing, we go to sandy areas, we go hiking, we get muddy sometimes, we have two Black Labs. Our first camper carpet was ruined when we bought it used. Our current camper has less carpet and more vinyl flooring and is a lot easier on sweeping. One of the very first things we did was after buying it was to have it professionally stain guarded. Most of our carpet is just under the seating areas and in our master bedroom. Makes it a little easier and less to clean up.
Window Treatments & Glass Tinting
Now this is something we are STILL working out. The wife made custom sun blocking curtains. This helps with the heat coming in but then you are running lights constantly to see and its dark. I love the idea of ceramic coated glass films. Unfortunately it doesn't seem like you can get them without making the outside of your camper look like an airfoil. I think this winter I am going to do a dark tint without the reflective look from outside. Considering time and money it might be easier to have a pro do it even though I'm handy.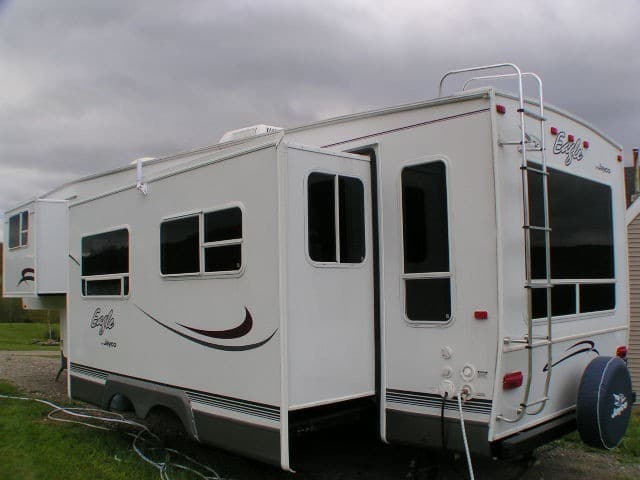 Sink Layout (This is for my wife)
Our kitchen counter and sink layout sucks. My wife and I are not the tallest people in the world. The cabinets above the sink are pretty much useless since we can't reach them. The sink size is weird as well but it is hard to get everything you want. One thing I am planning on doing is upgrading the faucet. It feels cheap and looks cheap which is surprising with the LHS package but once again. Can't get it all.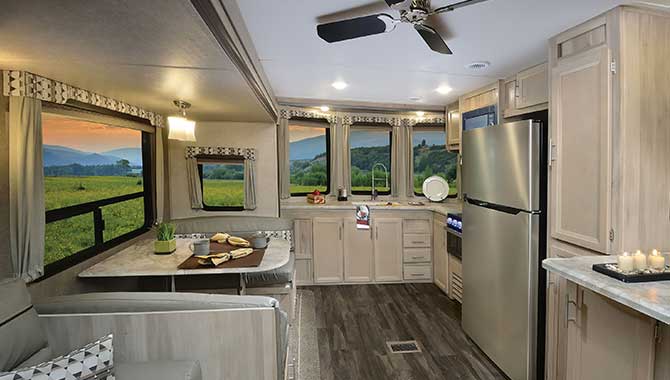 Interior Cabinets
Storage in our camper on the inside isn't too bad for what we need. We did struggle figuring out shoe storage. After removing the lower portion panel of the couch we found we could put some rolling drawers down there. Seems to work pretty well. We do wish we had wider and less deep pantry so it is easier to get stuff out of. Since we usually go on longer trips we need the extra storage. I have plans to make pull out slides this off season which I hope the wife likes. Interior storage is always a struggle in almost every camper. I guess this is because you just don't know how to use it when buying a RV, camper or motorhome. Similar to buying a car and learning the seat doesn't fit right.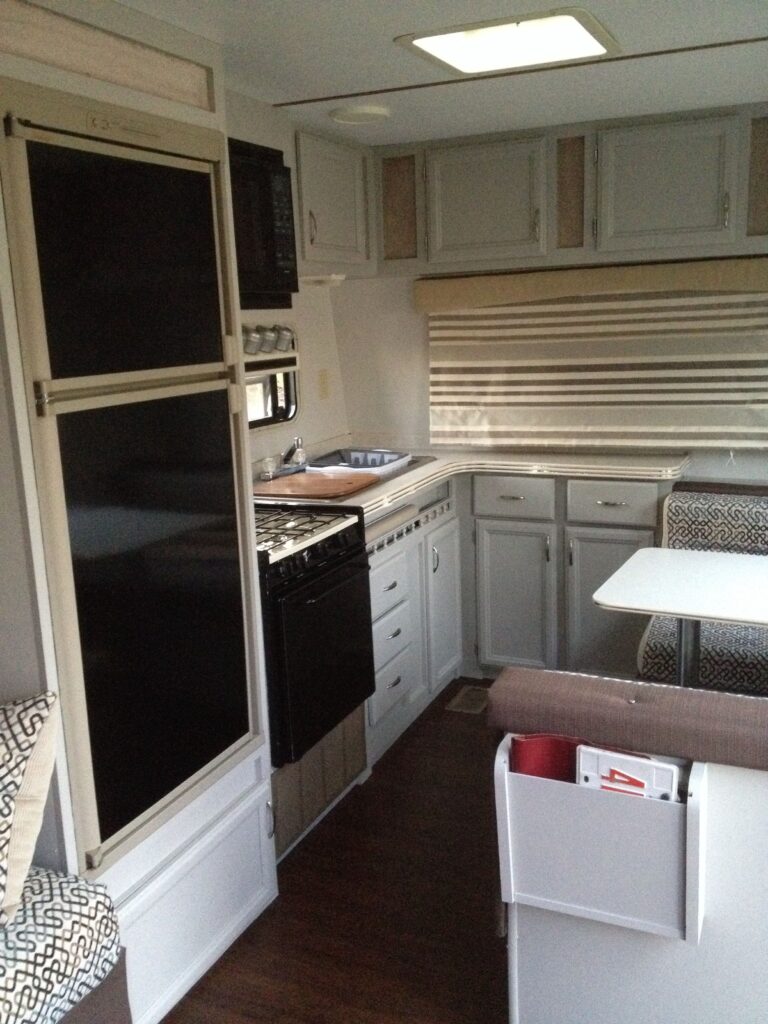 Indoor Entertainment
So for the longest time I was one of those campers that was AGAINST TV in the camper. Well that was when our TV sucked. Having TV in the camper is a great way to wind down after a long day on the water. We do try to keep it to a minimum and sometimes just on for noise. I will say that our stereo in our camper sucks, I love music but the speakers in our LHS are terrible. We ended up replacing our stereo and I am upgrading the speakers.
Outdoor Entertainment
I'm not a huge fan of outdoor TV or movies but music is a must for me. Unfortunately, weird speaker sizes and depths make it a pain to get decent replacements for good sound quality. This is another area that RV manufactures need to get better at.
Type of Stairs
I feel Keystone did a nice job with our steps both main entrance and master bedroom entry. Our stock steps move easily and have a good platform. I see a lot of people going the aftermarket route. If we still had our Prowler I would have upgraded for our dogs. Their claws were getting stuck in the small holes.
Exterior Storage
One thing I have struggled with the absolute most is the exterior storage on our LHS. It lacks everything. No place for your hoses, tools, extension cords etc. I am constantly emptying it out and restacking. Our Prowler had a huge pass through under the front couch. Not in our LHS. I've contemplated on opening it up the area under our bed. I've considered cutting a door in there. I am not that brave just yet so instead I will continue the storage shuffle.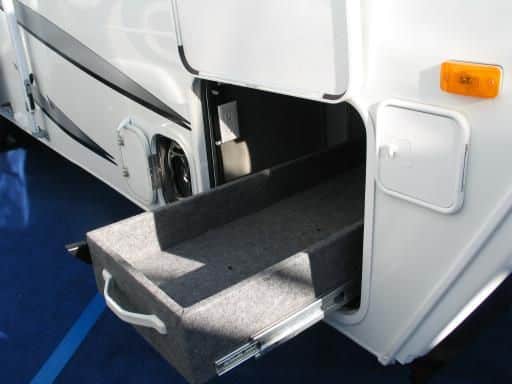 Electric or Manual Jacks
Depending on your style of "camping" and amount of effort depends on what you will want to choose. Honestly, running 4 jacks down with a drill or even manually with the handle isn't a ton of work. As an inspected or I see a lot of issues with leveling systems. I keep my setup old-school with manual cranks. I do try and keep my drill charged up though for those times when its raining and I would rather stay dry.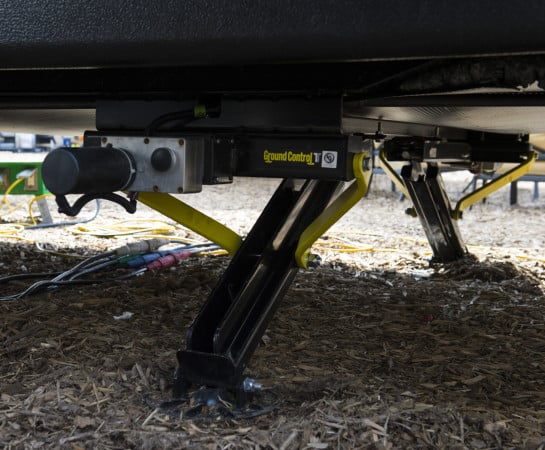 Wheel Color Choice
Oh now this one is interesting and not usually something you think of. Our Prowler had white wheels. YUCK. They constantly had grease on them or mud or whatever. Our LHS we have now have gray wheels with some metallic flake in them. They match the camper well and stay decently clean. Clean them really well and then treat them with a ceramic coating or spray wax a couple times a year. Avoid the aluminum wheels. They are prone to cracks with heavier rigs and side loads.
Hub Style
When I talk about hub style I am talking about the ease of lubing your own camper bearings. If you stay pretty close to home then you probably only need a couple squirts a year. I bring a handheld grease gun on long trips.
WARNING…. Already have sealed hubs with the small caps? Just leave them on and don't bother swapping over to easy lube or bearing buddies. They likely won't stay on and you will fight with them all year. Just do annual maintenance or maintenance before your big trips and you will be fine. I spent $100 on a set of bearing buddies for our Prowler just to loose 3 of them.
Brake Type
Brakes on trailers and campers have come a LONG way. Finally there are some great disc brake systems out there that are electric and some hydraulic. I only suggest upgrading brake systems if you are going to keep your camper for over 10 years. Drums if adjusted properly and used properly will last several years and are pretty easy to replace on your own. Our LHS is a 2016 and I can tell that it is pretty close to being due for brakes. Likely another off season project so we are ready for next season's long trip. I recommend checking etrailer.com for what you need. Their customer support and self help videos are awesome.
Distribution Hitch Type
We started out with out Prowler with a 2nd / 3rd hand weight distribution hitch. It didn't have any anti-sway properties to it at all. The bars were horrible, I took one in the knee once or twice, God forbid if you forget your tool. After going to a couple of RV shows and seeing the Andersen I fell in love with it. Its quiet and easy to connect and you don't have to worry about torsion bars when backing up tight. We have been running it since 2015. The bushing is starting to push out a bit but that is under the lifetime warranty. For the $500 you give for an Andersen kit versus the $350 for a Reiss… Spend the money on it.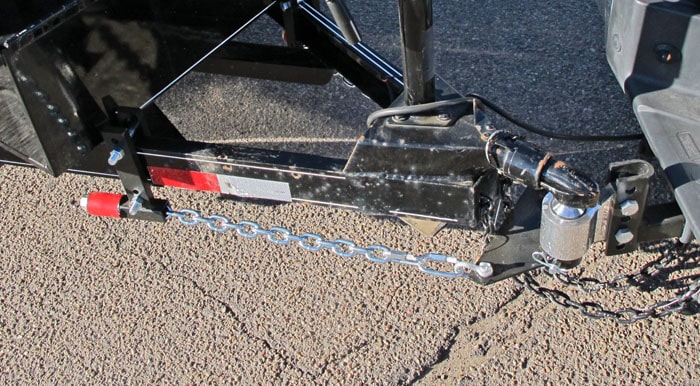 Roof Ladder
Roof ladders. To have or to not. Here is my suggestion. Make sure you have a ladder so you can clean off branches or whatever on roof slides. Some RV manufactures do not have the bracing required to mount a ladder after the manufacturing is complete. I was able to get with the manufacture and they sent me the actual schematics of where the bracing was. Don't just start drilling holes in your camper to find out. If you are not handy and do not feel comfortable doing it, leave it to the pros. If you are not able to get one mounted, at the very least bring along a collapsible one. Your slide out seals will thank you. RV ladders can also be used for interesting DIY projects such as clothes hangers (towels and swim suits).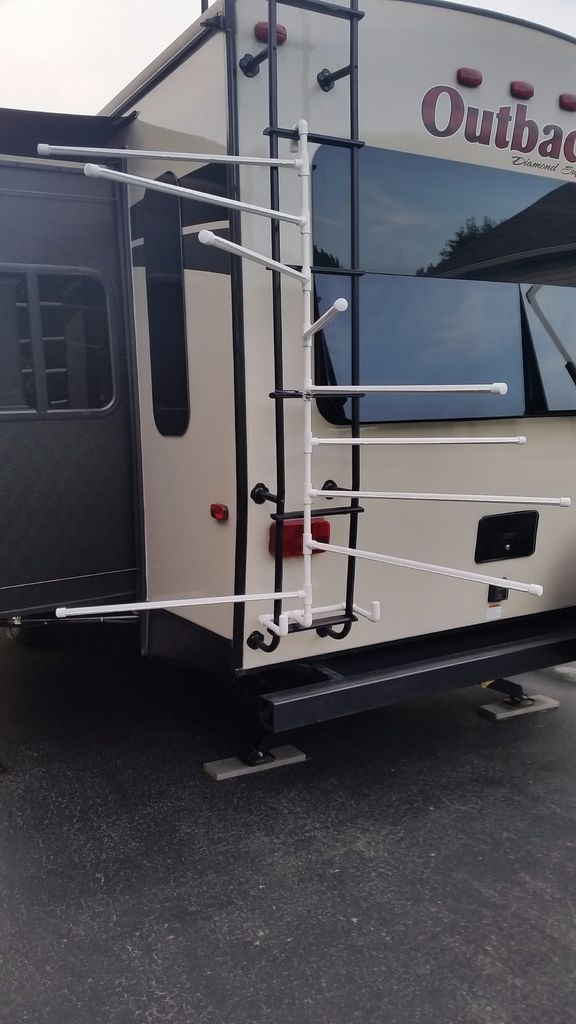 Spare Tire Mount and Location
I am NOT a fan of having extra weight on the rear bumper of the newer RVs. They only have a few tack welds holding that sheet metal tube in place. We took ours off and just store it under the bed. That keeps it out of the sun and our bumper safer. Just don't forget to put it on your list of checking air pressure now and then. A flat spare tire doesn't help much on the side of the road.
Wireless Backup Review Camera
I was raised relying on my mirrors and judgement to back up a trailer. I've pulled all kinds of trailers with at least I thought I had until we purchased our first bumper pull. I quickly noticed that you can't see anything at least half the distance of the length of your camper. This makes judging space and obstacles a pain when backing in your site. It also makes it tough even when backing in at home. I went onto Amazon and got a camera, mounted it and connected and it bam… It was done (after about 3 hours of work).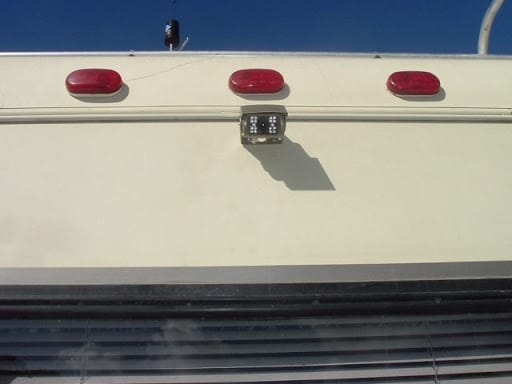 Refrigerator Type
Oh here we go.. Let the arguments begin about how you use your fridge, how much space you can get from a residential refrigerator. Today's newer high-end RVs, campers and travel trailers come with lots of options. You can get a traditional RV refrigerator side that can run off of LP and 12 volt. Choosing between the two really depends on your style of camping and your rig.
We do a lot of dry camping at race tracks and park camping with hook ups. For us we need the traditional fridge in our camper. Those who only use camp sites with power hook ups, a residential fridge works just fine. I personally like the ability to stop at a rest stop and reach in the fridge and grab a cold drink.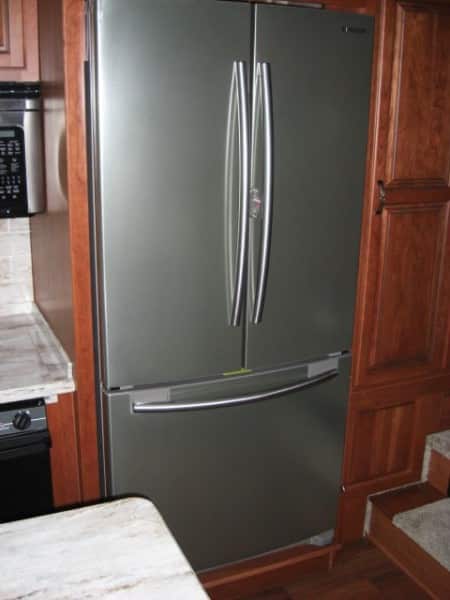 Hot Water Heater Type
Much like the refrigerator choice it depends on your style of camping. Think of your camping style and what you want to do later. However, if you are buying a motorhome or coach, your choices may be either endless or even very limited.
There are many options out there. You have LP Only, Electric Only, LP / Electric Combo, Aquahot (uses diesel, LP or electricity). Choose the option that fits your plans best. Our bumper pull came with an LP only 6 gallon, it sucked because we constantly were using LP. We ended up removing it and replacing it with one that was dual LP / Electric.
Plumbing Setup
Believe it or not there are recreational vehicles out there that are not equipped with tanks. Some of these were manufactured specifically for hurricane relief a while back. It would be obvious that you would need a full hookup site wherever you went or just not use the plumbing features of your RV. Some of these tankless units can be upgraded by installing the tanks and drain lines but it is not an easy task. Another item to consider is how big of a fresh water and grey water tanks you will need. If you plan on doing a lot of off-the-grid camping, you will want the biggest tank you can get.
Black Water Tank Flush Kit
Oh the things I wish I would have gotten on our current camper when buying a RV, camper or motorhome. The built-in black tank flush. Yes that is right, there are spray systems that mount inside your blank tank and connect direct to the shore water system that can help dislodge the nasty inside your blank tanks. A flush like this helps keep "stuff" from building up on your sensors and the bottom of your tank and helping keep things "moving" down in the hold. If you do not have a black tank flush system and you still want one like me, then there are installation kits that are available. This is on my to-do list for this season.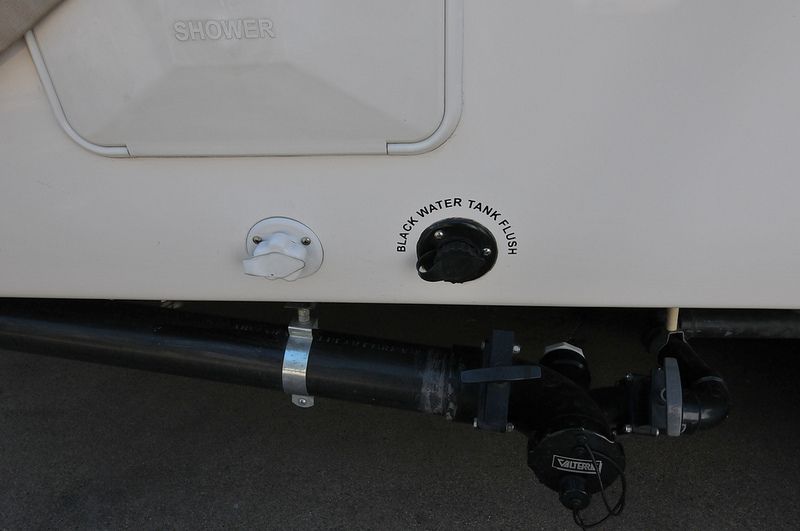 Cooling System
There are several choices when it comes to keeping your recreational vehicle cool when buying a RV, camper or motorhome. Majority of AC units these days are all roof-top units. I am a fan of go big or go home simply because I like things cool. Some units are direct from unit to vent and dump right out the plenum and others are actually ducted throughout the house helping spread the joy of cool air for everyone. I have seen some that are vented through ducts in the ceiling as well as even more expensive units that actually tie into the floor vents with the heating system.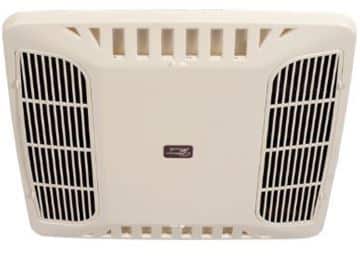 Heating System
OK here we go. Some people enjoy camping in the cold (not me) but it is always a good thing to have a heater. Some recreational vehicle units are equipped with LP heaters, electric only heaters and some are hybrid., some are even equipped with heat pump units which run off the AC roof top units. Venting has a lot of choices as well just like the AC system.
Solar Prep Package
Here is something I am kicking myself for when we did go buying a RV, camper or motorhome, but it wasn't near as developed yet. Solar seems to be the new thing these days especially if you are planning on getting off the beaten path without access to power or charging of the batteries. There are an entire truck load of choices when it comes to solar power but the main take-a-way here is 1 panel will basically charge your one battery enough to keep you going but you will not get any big energy consumption items to work for long. Good solar systems require several batteries, an inverter, converter and switch system and monitoring panel. The more panels you can mount on your RV the better you are. The more batteries you have the better you are.
What Goes Into Solar
There is a lot of information that goes into a quality and effective solar setup. With that said, if you are planning on going solar, get the solar prep package as it will make running the wires and controls 1000 times easier down the road. Solar prep packages include quick disconnects on the roof for the panel system, wiring for the control units and usually some sort of battery storage area already build in.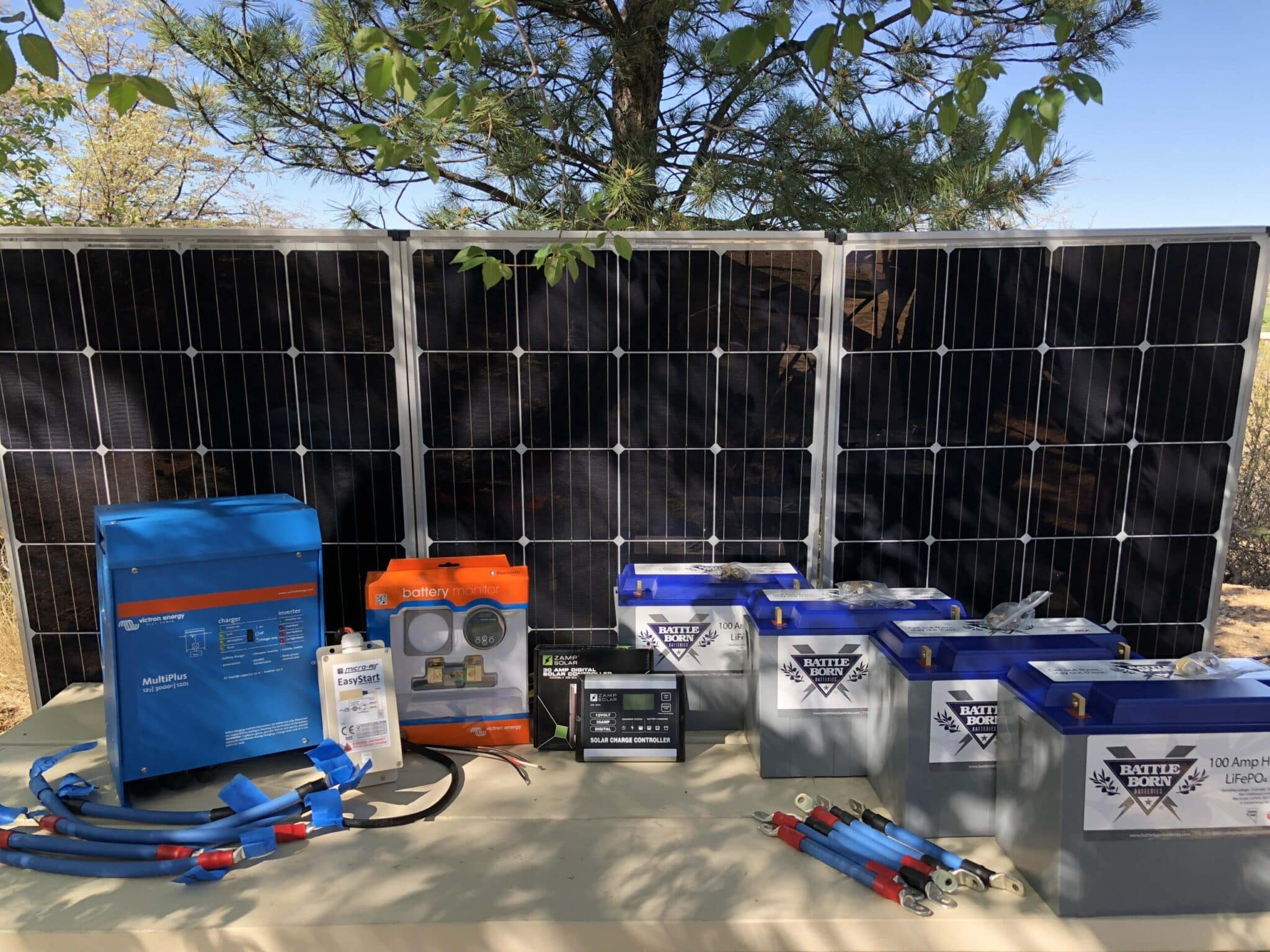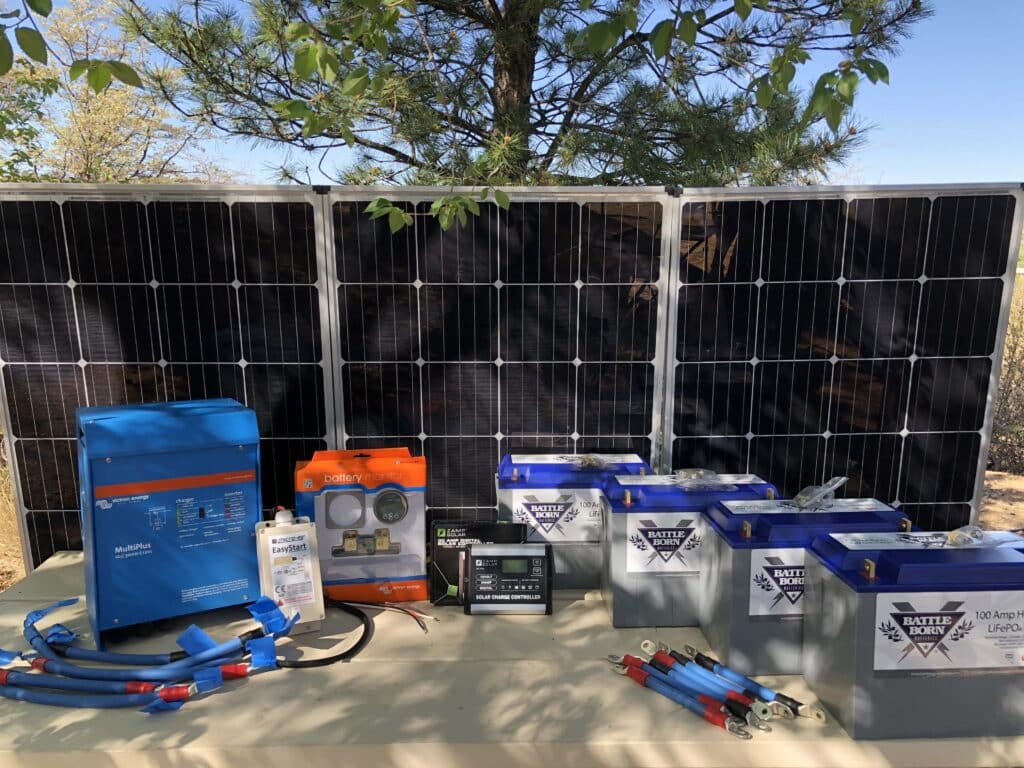 Generator Type
Generator type is a pretty simple decision but there are a few options. First you need to make sure that the specified generator will power THE FULL HOUSE all at the same time. This means the fridge, oven, stove, AC, microwave, TV, inverter for your 12 volt system and plug in items. Most RV manufactures are pretty good at choosing the right generator for your setup. The question really is, how do you want to power your generator? If you have a camper or 5th wheel, I suggest a LP generator setup, if you are purchasing a coach, the generator will likely be paired to whatever fuel type the main engine uses. If you have a motorhome that is a diesel pusher, your generator will likely be diesel powered., if you have a gas engine motorhome, your generator will likely run off of gasoline.
We currently drag around a portable generator which is heavy, LOUD and drinks gas like kids drink Koolaid. I know when buying our next RV, camper or motorhome it will have a built-in generator since we camp at the races so much. Seems like Onan is the way to go for gasoline generators and Cummins is the way to go with Diesels, both are made by Cummins and run very quite for what they produce.