If there was ever a reason to hire a professional and certified vehicle inspector before purchasing any type of used car or classic car as an investment this is one of them.  We helped save this guy $25,000 in a Bondo-filled, patched up and unprofessionally repaired car that needs a full frame off restoration the story of my journey with this car is below.
The Vehicle Inspection Backstory: (My wife would be proud that I got the backstory on this vehicle)
Recently we were contacted to provide a pre-purchase classic car inspection on a 1970 Pontiac GTO with 118,600 miles on it at a dealership.  The buyer was looking for a solid car both structurally and mechanically but didn't mind putting some time and money into something to make it a good driver.  The buyer (our client), mentioned that it looked in the photos provided by the seller that it had the well-known cracks in the headlamp / front bumper areas and some expected sun damage on the interior.  The rest was stated to be "Mint condition, new paint, new vinyl top" per the advertised listing.
The Vehicle Inspection Scheduling: (Everything seemed to be going as planned)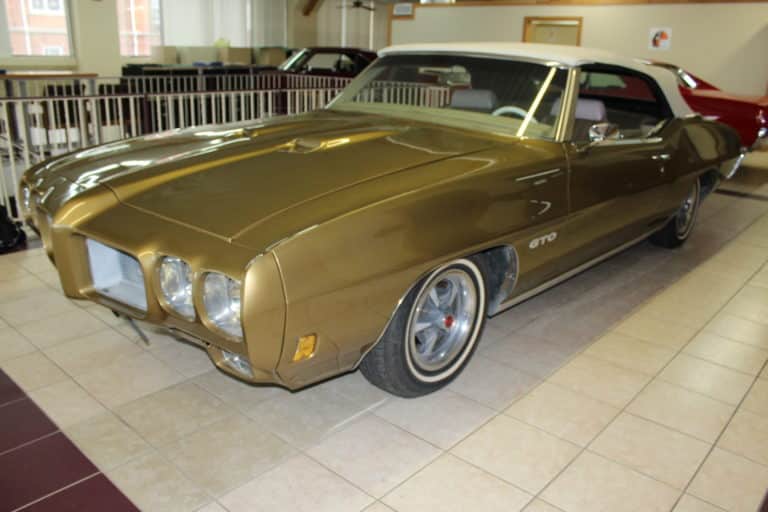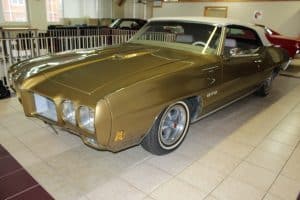 So, we contacted the seller and scheduled the inspection of the GTO.  We mentioned our normal scheduling jargon about ensuring the vehicle will start, ensuring there is enough room around the vehicle for an inspection and photos, ensuring the vehicle can be taking for a test drive etc.  We were assured the vehicle would start right up and there was plenty of space for the inspection on the showroom floor and received the proper authorization for a test drive with the seller's representative driving.  Everything was set into motion and we were scheduled to inspect the car in a few days.
The Vehicle Inspection: (The realization quickly set in of what I was dealing with)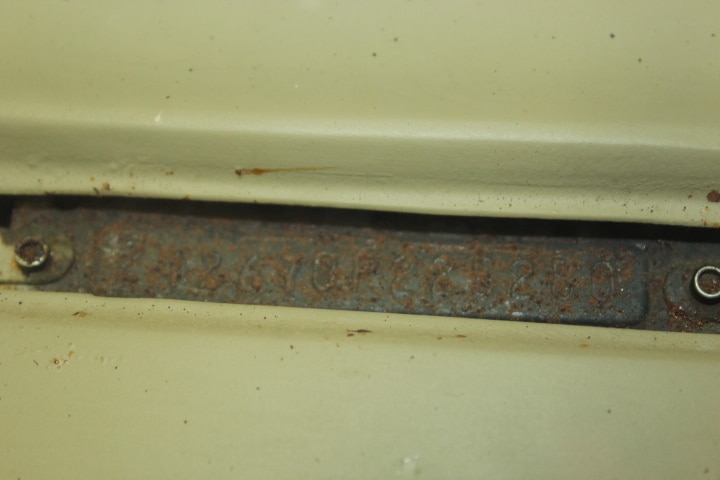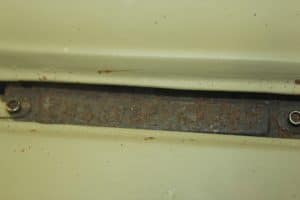 After driving about 2 hours I arrived at the inspection location, a dealership, which had a few other classic cars on the showroom floor other than their new cars.  I was introduced to the sales manager who I spoke to on the phone to schedule with, he showed me to the car and I began my inspection process.
The first thing I do when I get to a vehicle is check for keys. Without a set of keys, I can't start the car and without starting the car you have no idea of the vehicle's mechanical condition.  The next thing I check is for the vehicle identification number tag, better known as the VIN tag.  Sometimes these can be tough to find. You might find them in the door jam, on the door itself, the lower area of the dash and windshield or on one of the fenders or even the firewall.  Each vehicle manufacture and model often have their own areas for placing the VIN tag.  Sometimes with a lot of older cars they are missing or unreadable.  Believe it or not, the VIN tag condition tells you a lot more about the car than just the year, make, model and engine size.  In the case of this car, you find it rusty and nearly unreadable, you know there will be more issues to find.
The next thing I go after is the mileage of the vehicle.  In this vehicle, we could tell that the mileage had rolled over past 100,000 miles so the accurate mileage would have been 118,600.  Easily readable and from basically looking at the vehicle the mileage seems to match correctly.  It is not often I inspect a classic car with this many miles.  Most have been restored and set back to a restored mileage or just kept low.  Vehicle's with restored mileage should come with documentation backing up that mileage.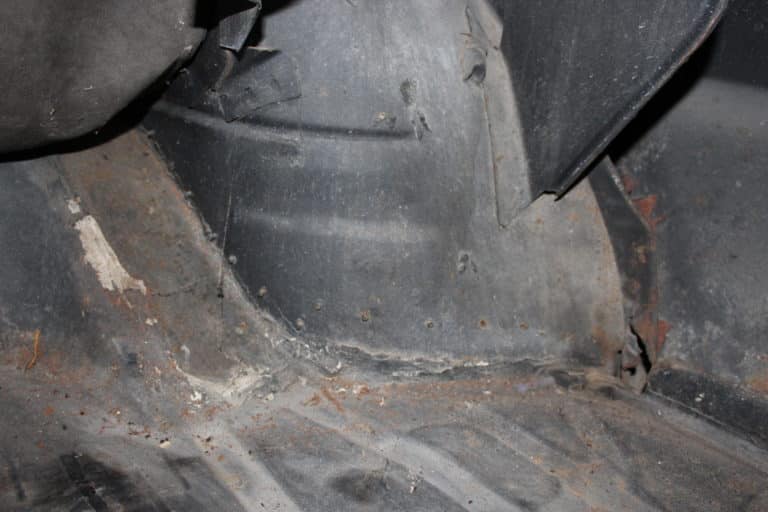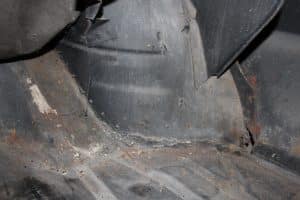 Once I have the basics covered I turned to a slow walk-a-round of the car.  During this walk I am looking for obvious signs of repaint, body filler, dents, scratches, cracks, tire condition and I am opening and closing all the doors, windows, trunk and hood.  The first thing I noticed when I did my walk-a-round on this GTO was a small tear in the convertible top just above the driver's side rear seat.  It was a small cut, about an inch in length. Having looked at the original description of this vehicle and the condition being listed as a "new top" I knew to look further at what the top may have been rubbing on inside of the car when the top is down. Low and behold it was getting caught on some rusted metal under the rear deck.  It didn't take long during my walk to find more areas which were sore spots on this car.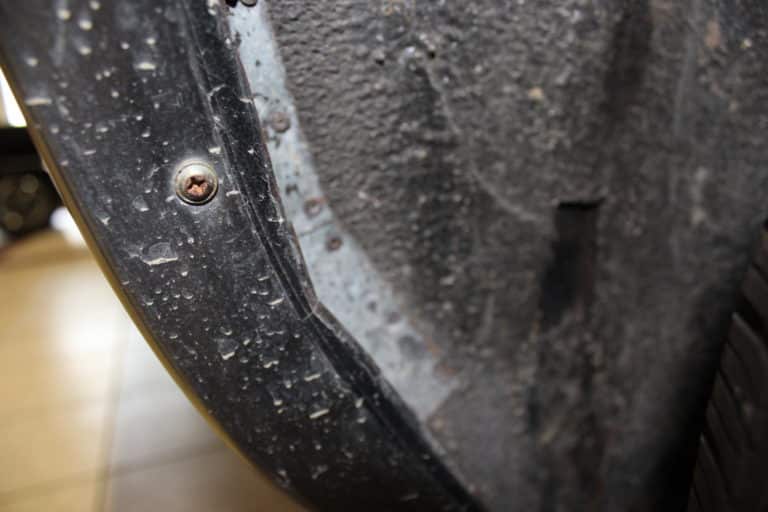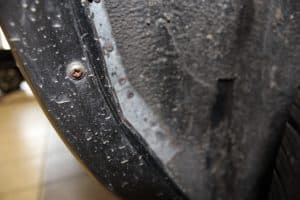 I also found some very unprofessional repairs in both the rear fender wells (homemade stainless straps that were riveted in place), I found tons of body filler in the right rear quarter panel and about a gallon of filler in both rocker panels. Sadly, this isn't everything I found.  I found holes in the rear floor pans big enough to put my fist through, the trunk pan had massive patch jobs and even more non-functioning rivets holding the inner quarter panels in place.  In short, this car looked like someone did a quick and dirty respray on it after dragging it out of field or under a tree.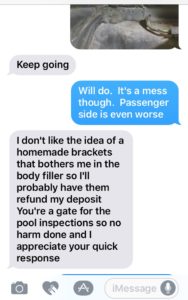 Now normally after a solid visual inspection I do a full mechanical inspection of the vehicle I am working with and then take it for a full 10 minute test drive or until it is at full operating temperature.  Not only was the battery dead but even with a jump box I was not able to get this car started.  Needless to say, I did not take it for a test drive and it never got started.
This car was so bad that I stopped my inspection and called the buyer (my client) to give him a quick update on what I had found.  He was blown away.  I sent him some pictures by text message as confirmation and so he could forward to the sales manager and get a refund on his deposit.
 The Vehicle Inspection Report: (Delivering the good news of the bad news)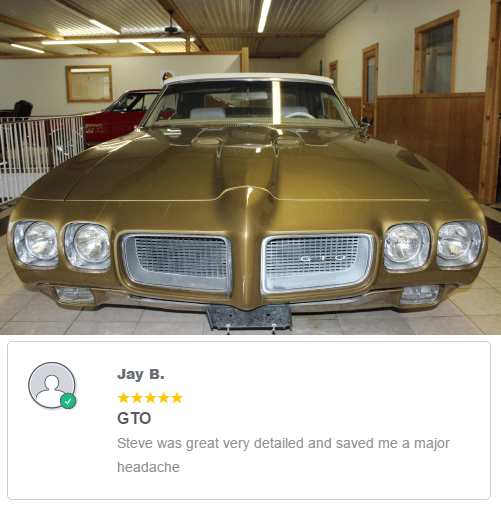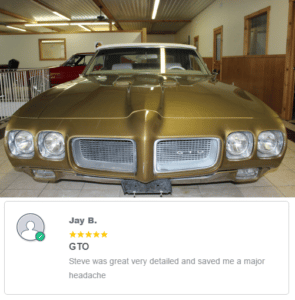 It was tough writing such a terrible report.  The car from about 20 feet is beautiful gold.  It is a base model car with no fancy options or even AC but with the top down it would have been a cool cruising car.  Luckily for the buyer (our client), he hired a professional vehicle inspector to check out the car before he sent in his $25,000 payment.  Since the inspection report has been delivered, we have received a positive 5-star review from our client and he has been refunded his deposit by the dealership after sharing our report with them.
If you are in the market for a used car, classic car, luxury vehicle or exotic vehicle please do yourself a favor and hire a professional and certified vehicle inspector or appraiser to take a look at the vehicle before you purchase it.  I am a certified automobile appraiser and long time vehicle inspector.  This is my sole means for income. This is my company I have built from the ground up. I have won many awards for our accomplishments and have many positive reviews online as well as being Accredited and having an A+ rating with the BBB.  If you find this article and we are not in the area which you need us PLEASE do your homework and find a company like ours to help you before you purchase the vehicle.