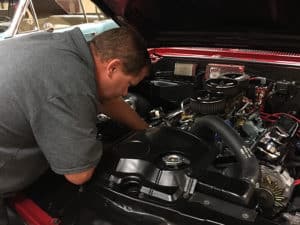 Determining the Current Market Value, Fair Market Value or Cash Value of a vehicle is not just an inspection and assigning a number.
It requires research, investigation and the study of other vehicles of similar condition. When determining any value of a vehicle for any reason you must start off with a quality thorough inspection of the vehicle in question. The vehicle becomes the subject of scrutiny. An appraiser must go over the vehicle with a fine toothed comb, observe features and options working as designed, test drive vehicle and even more, remembering how other vehicles they have inspected have performed… All the while taking notes and grading the vehicle by a score based on USPAP standards.
Current Market, Fair Market and Cash Value Appraisals can be broken down into many other categories and reasons for valuation similar to the following. These are referred to as the Appraisal Purpose which must be defined on each appraisal assignment.
Reproduction Cost New
Replacement Cost New
Fair Market Value
Fair Market Value in Continued Use with Assumed Earnings
Fair Market Value in Continued Use with an Earnings Analysis
Fair Market Value – Installed
Fair Market Value – Removed
Liquidation Value in Place
Orderly Liquidation
Forced Liquidation Value
Salvage Value / Scrap Value
Our current market value, fair market value and cash value appraisals follow the USPAP guidelines strictly so the appraisals we provide will hold up in the court of law, with your insurance company and with the IRS if need be. Each of our appraisals come with a certificate of certification so they can be used not just for negotiating a sales price but also for legal purposes if needed.
Our current market value, fair market value and cash value appraisals are often used in legal cases of divorce, estate probate, bankruptcy, collateral and pre-lending values.
Furthermore, before we provide an appraisal on any vehicle we must physically inspect the vehicle fully so we can determine the true overall condition of the vehicle and compare that to others in the current market or auction pricing.
To get a quote or for more information on our current market value, fair market value or cash value appraisal services please use the form on the right to send us a message through our website. Additionally, you can also send us a text message at 1-636-388-8378 and we will respond back as soon as possible (our average response time is under an hour).